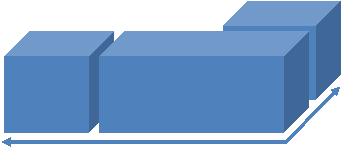 Cornerstone Research Ministry
Home
About
Articles
Contact
Recognizing False Biblical Teachings and Teachers / Signs Of The Times

Cornerstone Newsletter
A message for Catholics and friends to share with them
Pope Francis Publically Denied Jesus Before The World
Pope's World Broadcast Prayer For Ukraine and Russia Replaces the Work Of Jesus with an Idol named Mary
April 1, 2022
by Greg DesVoignes
"But whoever denies Me before men, him I will also deny before My Father who is in heaven." Matthew 10:23
"Who is a liar but he who denies that Jesus is the Christ? He is antichrist who denies the Father and the Son." 1 John 1:22
You shall

not
add
to
the word which I command you, nor take from it, that you may keep the commandments of the Lord your God which I command you."
Deuteronomy 4:2
"Do not add to His words, Lest He rebuke you, and you be found a liar." Proverbs 30:6
"Their land is also full of idols; They worship the work of their own hands, That which their own fingers have made." Isaiah 2:8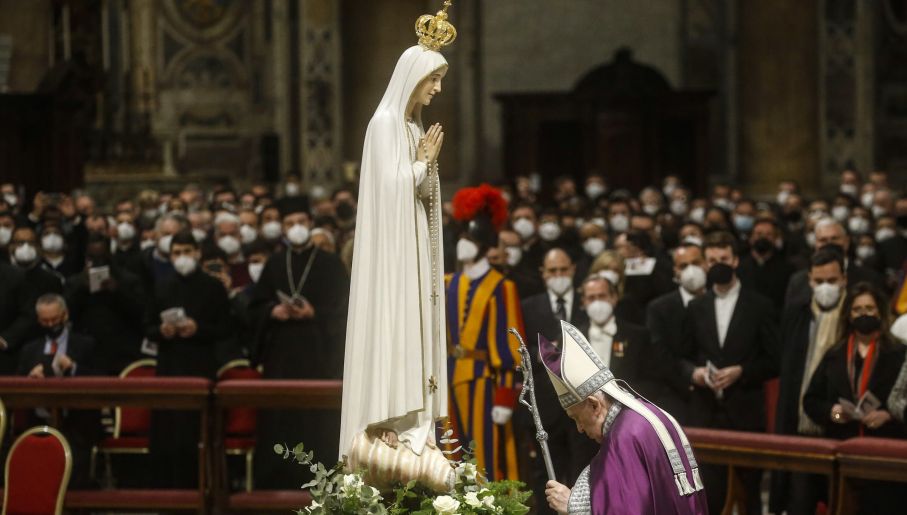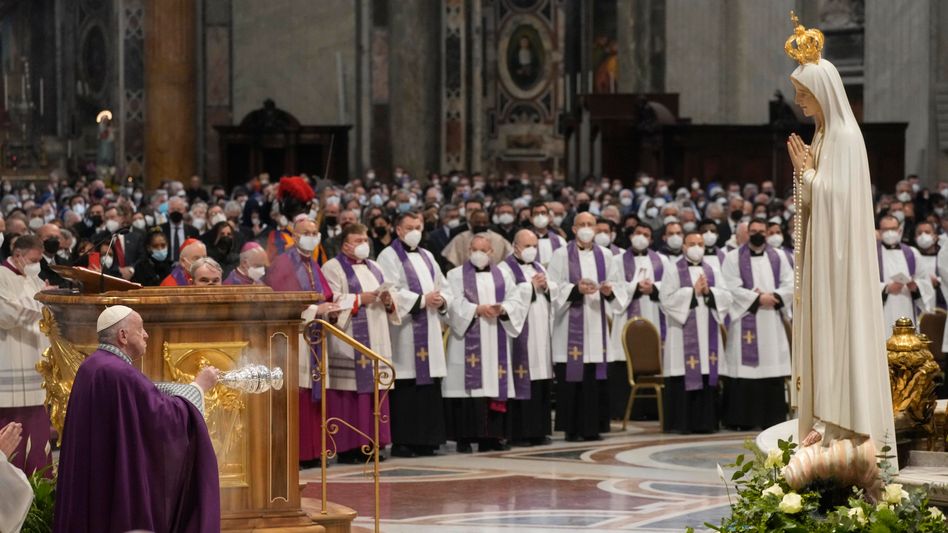 Pope praying before an idol. God said, Don't do this!
On March 25, 2022 a prayer by Pope Francis, given before, and addressed to, an idol in the form of a female whom is supposed to be Mary, mother of Jesus. The prayer was supposed to have been inspired in part by a prophecy given to three children in Fatima, Portugal in 1917 by a spirit claiming to be Mary. One of the prophecies this spirit spoke was that Russia would be converted to the Catholicism and there would be peace IF the Pope and all the bishops of the world would "consecrate" Russia to the "immaculate heart of Mary".
I watched this ceremonial prayer as the Pope sat under a statue of a Madonna and actually prayed to it before the whole world. I listened to it and later read the translation in amazement; but not in a good sense. This belief is not something new, but now was revealed to the world.
As Christians we are commanded to "test the spirits to see if they are from God" (1 Timothy 4:1) and not just believe that everything we see and or are taught is of God. Everything is to be viewed and tested by comparing the Word of God to what we are taught, what we see, and whatever some spirit utters that causes amazement. Even if it has been a tradition for 1500 years. Deception started 2,000 years ago and is peaking today.
What I heard and saw is that Pope Francis publically, before the whole world and not just in some church, revealed the disobedience to God's commands not make, nor to pray to a statue of any kind or spirit an image represents; and by what he prayed to this statue actually denies the word, the work and the character of Jesus Himself as will be seen.
God warned Hosea;
"My people are destroyed for lack of knowledge.
Because you have rejected knowledge,
I also will reject you from being priest for Me;
Because you have forgotten the law of your God,
I also will forget your children. Hosea 4:6
If we are not studying God's word ourselves, we are lacking knowledge of him which leads to certain deception. God gave us His word and it is not to be rejected, but read and studied. Why? Because God said that not having personal knowledge of him will lead to our destruction. Going to some Mass or other service and observing traditions is not something that gives knowledge of God. In Hosea, God warned Israel that they had forgotten His Word. How can we even know something to forget if we have not even studied it? So, if you are a Catholic, or even a non-Catholic who does not study the Word, please consider what you are reading here and test these things with the Word of God as I have done in breaking down what the Pope said in comparison to what the Word of God says. The full prayer can be seen at:
https://www.vaticannews.va/en/pope/news/2022-03/pope-francis-prayer-act-consecration-russia-ukaine-mary.html
The news from the Vatican on the Pope's prayer said this;
"By Vatican News
Pope Francis—united to all the Bishops and Catholic faithful around the world—will consecrate Russia and Ukraine to the Immaculate Heart of Mary on Friday, the feast of the Annunciation.
The Act of Consecration will be prayed during the "24 Hours for the Lord" Lenten penitential service in St. Peter's Basilica, which begins at 5 PM Rome time.
The Pope will pray the Act of Consecration around 6:30 PM, and has asked all Bishops and priests to join him spiritually in this prayer, which will be broadcast across our Vatican News channels - radio, website, YouTube, and Facebook - with English-language commentary.
"
End quote
Below is the entire prayer the Pope prayed to the statue. I am dividing the prayer in parts in order to comment using Scripture, on those areas that oppose the Word of God and give honor to this Mary in place of, or equal to the work and character of Jesus and the Holy Spirit.
The prayer;
O Mary, Mother of God and our Mother, in this time of trial we turn to you.
Not so. The word of God does not tell us to make Mary our mother, nor does the word of God tell us ever to turn to anyone but Jesus / God. In our trials we are to turn to Jesus, not some other spirit.
Jesus said,
33 These things I have spoken to you, that in Me you may have peace. In the world you [f]will have tribulation; but be of good cheer, I have overcome the world." John 16:33
"For if you return to the Lord, your brethren and your children will be treated with compassion by those who lead them captive, so that they may come back to this land; for the Lord your God is gracious and merciful, and will not turn His face from you if you return to Him." 2 Chronicles 30:9
"Now, therefore," says the Lord, "Turn to Me with all your heart, With fasting, with weeping, and with mourning." Joel 2:12
"Look to Me, and be saved, All you ends of the earth! For I am God, and there is no other." Isaiah 45:22
This spirit who claims to be Mary has been elevated by the Pope and by herself to be equal with, and above Jesus. In contrast we are to turn to God only with ALL our heart, and not with any part for anyone or anything else.
Prayer continued;
As our Mother, you love us and know us: no concern of our hearts is hidden from you.
Not so; only God know the heart of man,
"15 And He (Jesus) said to them, "You are those who justify yourselves before men, but God knows your hearts. For what is highly esteemed among men is an abomination in the sight of God." Luke 16:15
"The heart is deceitful above all things, And desperately wicked; Who can know it? 10 I, the Lord, search the heart, I test the mind, Even to give every man according to his ways, According to the fruit of his doings." Jeremiah 17:9-10
Again, the Pope elevates this spirit to be equal with God in opposition to the truth that it is only God that knows the heart.
Prayer continued;
Mother of mercy, how often we have experienced your watchful care and your peaceful presence! You never cease to guide us to Jesus, the Prince of Peace.
Here the Pope replaces the work of the Holy Spirit and Jesus with Mary being the one who guides. The word tells us,
7 Nevertheless I tell you the truth. It is to your advantage that I go away; for if I do not go away, the Helper will not come to you; but if I depart, I will send Him to you. 8 And when He has come, He will convict the world of sin, and of righteousness, and of judgment: 9 of sin, because they do not believe in Me; 10 of righteousness, because I go to My Father and you see Me no more; 11 of judgment, because the ruler of this world is judged…
..12 "I still have many things to say to you, but you cannot bear them now. 13 However, when He, the Spirit of truth, has come, He will guide you into all truth; for He will not speak on His own authority, but whatever He hears He will speak; and He will tell you things to come. 14 He will glorify Me, for He will take of what is Mine and declare it to you. 15 All things that the Father has are Mine. Therefore I said that He will take of Mine and declare it to you." John 16:7-8, 12-15
Jesus, by the Holy Spirit is the one who guides us to himself, not some other female entity. The Pope again leads astray from the truth.
Prayer continued;
Yet we have strayed from that path of peace. We have forgotten the lesson learned from the tragedies of the last century, the sacrifice of the millions who fell in two world wars. We have disregarded the commitments we made as a community of nations. We have betrayed peoples' dreams of peace and the hopes of the young. We grew sick with greed, we thought only of our own nations and their interests, we grew indifferent and caught up in our selfish needs and concerns. We chose to ignore God, to be satisfied with our illusions, to grow arrogant and aggressive, to suppress innocent lives and to stockpile weapons. We stopped being our neighbour's keepers and stewards of our common home. We have ravaged the garden of the earth with war and by our sins we have broken the heart of our heavenly Father, who desires us to be brothers and sisters. We grew indifferent to everyone and everything except ourselves. Now with shame we cry out: Forgive us, Lord!
The Pope is an environmentalist and globalist which includes attempting to gather for a one world religion. And in the above treatise he is speaking as both. The fact that he says God desires us to be brothers and sisters, the Pope does not say we are to be brothers and sisters in Christ as in the true church, but as global citizens. The Pope is praying to Mary but ends the section by saying, "Forgive us, Lord!". Mary is not the Lord, nor is she a mediator between man and God.
Paul specifically said this as seen below.
"5 For there is one God and one Mediator between God and men, the Man Christ Jesus, 6 who gave Himself a ransom for all, to be testified in due time.. 1 Timothy 2:5-6
This Mary did not give her life for us, thus cannot be a mediator between God and man as is claimed. And, there is only ONE, not more.
P
rayer continued;
Holy Mother, amid the misery of our sinfulness, amid our struggles and weaknesses, amid the mystery of iniquity that is evil and war, you remind us that God never abandons us, but continues to look upon us with love, ever ready to forgive us and raise us up to new life. He has given you to us and made your Immaculate Heart a refuge for the Church and for all humanity. By God's gracious will, you are ever with us; even in the most troubled moments of our history, you are there to guide us with tender love.
All of these bolded statements are not of the truth, but again are giving Mary the position of Jesus. God himself reminds us that He will not forsake us through His Word. The Word says that it is only through being forgiven by God that it is only God raises us up to new life.
"5 Let your conduct be without covetousness; be content with such things as you have. For He Himself has said, "I will never leave you nor forsake you." 6 So we may boldly say: "The Lord is my helper; I will not fear. What can man do to me?" Hebrews 13:5-6
There is nowhere in the Word where God said he gave us some other spirit as a refuge other than Jesus. The Word says in contradiction to the Pope,
"God is our refuge and strength, A very present help in trouble." Psalm 46:1
And it is only Jesus who is our guide,
"He makes me to lie down in green pastures; He leads me beside the still waters." Psalm 23:2
""Most assuredly, I say to you, he who does not enter the sheepfold by the door, but climbs up some other way, the same is a thief and a robber. 2 But he who enters by the door is the shepherd of the sheep. 3 To him the doorkeeper opens, and the sheep hear his voice; and he calls his own sheep by name and leads them out. 4 And when he brings out his own sheep, he goes before them; and the sheep follow him, for they know his voice. 5 Yet they will by no means follow a stranger, but will flee from him, for they do not know the voice of strangers" John 10:1-5
Any voice other than the Words of Jesus as found in His Word, are the voices of false spirits and teachers.
Prayer continues;
We now turn to you and knock at the door of your heart. We are your beloved children.
Again there is nowhere in Scripture that says any are the children of a being that says it is Mary. The Word says,
"Beloved, now we are children of God; and it has not yet been revealed what we shall be, but we know that when He is revealed, we shall be like Him, for we shall see Him as He is." 1 John 3:2
Nowhere does God say we are to turn to anyone but Him. We are to knock on the door of God, not on the heart of some entity behind an idol God said not to worship or pray to or even make such a thing. Jesus said to direct our prayers to God and God alone. In opposition to what the Pope and this spirit who says she is Mary, Jesus says,
"7 "Ask, and it will be given to you; seek, and you will find; knock, and it will be opened to you. 8 For everyone who asks receives, and he who seeks finds, and to him who knocks it will be opened. 9 Or what man is there among you who, if his son asks for bread, will give him a stone? 10 Or if he asks for a fish, will he give him a serpent? 11 If you then, being evil, know how to give good gifts to your children, how much more will your Father who is in heaven give good things to those who ask Him! Matthew 7:7-11
Prayer continues;
In every age you make yourself known to us, calling us to conversion. At this dark hour, help us and grant us your comfort. Say to us once more: "Am I not here, I who am your Mother?" You are able to untie the knots of our hearts and of our times. In you we place our trust. We are confident that, especially in moments of trial, you will not be deaf to our supplication and will come to our aid.
Again the Pope has Mary replacing the work of the Holy Spirit and Jesus. Jesus said of Himself,
"32 I have not come to call the righteous, but sinners, to repentance." Luke 5:32
"15 "If you love Me, keep My commandments. 16 And I will pray the Father, and He will give you another Comforter, that He may abide with you forever— 17 the Spirit of truth, whom the world cannot receive, because it neither sees Him nor knows Him; but you know Him, for He dwells with you and will be in you. 18 I will not leave you orphans; I will come to you." John 14:15-18
While Jesus was on earth, he was the Comforter. But he would send another Comforter to us, the Holy Spirit whom Jesus said was a He, not some spirit masquerading as a female and made in the likeness of man to pray before as the Pope has done.
In John 3 we see Jesus telling Nicodemus that he cannot see, nor enter the Kingdom of God unless he is born again of the Spirit of God.
The Pope says he is placing trust in this female spirit whom he prays to before the world in the form of a female idol he was sitting under and looking up to in prayer. But the Word says,
"Trust in the Lord with all your heart, And lean not on your own understanding; In all your ways acknowledge Him, And He shall direct your paths." Proverbs 3:5-6
Prayer continued;
That is what you did at Cana in Galilee, when you interceded with Jesus and he worked the first of his signs. To preserve the joy of the wedding feast, you said to him: "They have no wine" (Jn 2:3). Now, O Mother, repeat those words and that prayer, for in our own day we have run out of the wine of hope, joy has fled, fraternity has faded. We have forgotten our humanity and squandered the gift of peace. We opened our hearts to violence and destructiveness. How greatly we need your maternal help!
Therefore, O Mother, hear our prayer
Mary is not an intercessor with Jesus. The Word never said that we would need this idol's help, nor will God answer any prayers to it. Again, the Word says,
"5 For there is one God and one Mediator between God and men, the Man Christ Jesus, 6 who gave Himself a ransom for all, to be testified in due time," 1 Timothy 2:5
"26 Likewise the Spirit also helps in our weaknesses. For we do not know what we should pray for as we ought, but the Spirit Himself makes intercession [g]for us with groanings which cannot be uttered. 27 Now He who searches the hearts knows what the mind of the Spirit is, because He makes intercession for the saints according to the will of God." Romans 8:26-27
When the Pope asks this entity to hear a prayer, he fails to acknowledge the truth of the Word that we pray to God, to the Father, never anything else; especially praying to an idol. This is an abomination to God. God was very explicit when He commanded,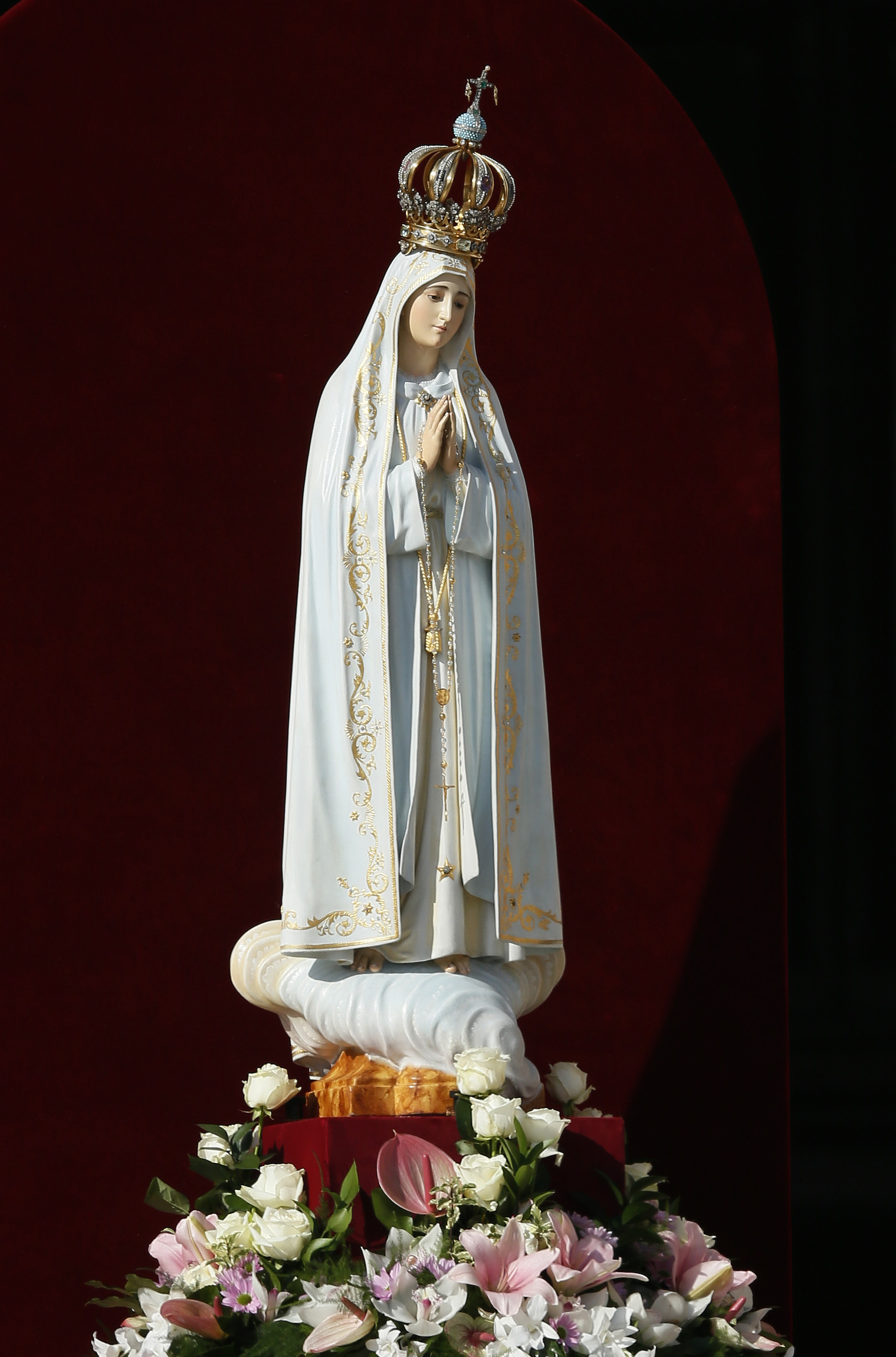 Idol of Mary at the Vatican: The work of man's hands.
"You shall not make idols for yourselves; neither a carved image nor a sacred pillar shall you rear up for yourselves; nor shall you set up an engraved stone in your land, to bow down to it; for I am the Lord your God." Leviticus 26:1
"Not unto us, O Lord, not unto us, But to Your name give glory, Because of Your mercy, Because of Your truth. 2 Why should the Gentiles say, "So where is their God?" 3 But our God is in heaven; He does whatever He pleases.

4 Their idols are silver and gold, The work of men's hands. 5 They have mouths, but they do not speak; Eyes they have, but they do not see; 6 They have ears, but they do not hear; Noses they have, but they do not smell; 7 They have hands, but they do not handle; Feet they have, but they do not walk; Nor do they mutter through their throat.

8 Those who make them are like them; So is everyone who trusts in them. Psalm 115:1-8
There are many more verses on making images and statues which God says not to do such as; Isaiah 44:8-20
and Jeremiah 10:2-10
Prayer continued;
Star of the Sea, do not let us be shipwrecked in the tempest of war.
Ark of the New Covenant, inspire projects and paths of reconciliation.
Queen of Heaven, restore God's peace to the world.
Eliminate hatred and the thirst for revenge, and teach us forgiveness.
Free us from war, protect our world from the menace of nuclear weapons.
Queen of the Rosary, make us realize our need to pray and to love.
Queen of the Human Family, show people the path of fraternity.
Queen of Peace, obtain peace for our world.
While all of the above titles for this entity called Mary are not depicted of anything positive in the Word of God or in it at all, I want to bring attention to three; that this entity is called the "Ark of New Covenant", "Queen of Heaven", and Queen of the Rosary".
The Ark of the New Covenant
First, as seen in the Scriptures, the Ark was the dwelling place of God within the Tabernacle and then within the temple at Jerusalem. It had the "Mercy Seat" between the two angels on which God resided. The Ark was placed in, "The Holy of Holies" in the temple. Only the High Priest could go into it once a year to pray to God for the forgiveness of sins. What is taught to the Catholics is that Mary is the "Holy of Holies"; the womb where God dwelt. I won't go into the lengthy reasons for this belief.
Jesus said of the Scriptures to the Pharisees,
"37 And the Father Himself, who sent Me, has testified of Me. You have neither heard His voice at any time, nor seen His form. 38 But you do not have His word abiding in you, because whom He sent, Him you do not believe. 39 You search the Scriptures, for in them you think you have eternal life; and these are they which testify of Me. 40 But you are not willing to come to Me that you may have life." John 5:27-40
The Scriptures testified of Jesus, not some other entity. This includes the Ark which testified of Jesus and the sprinkling of the blood of a lamb upon it as a symbol of a New Covenant to come which is today seen in Jesus, not in something who says it is equal to Him. Jesus said of this,
"27 Then He took the cup, and gave thanks, and gave it to them, saying, "Drink from it, all of you. 28 For this is My blood of the new covenant, which is shed for many for the remission of sins" Matthew 26:27-28
There was no blood sprinkled on Mary. The curtain that separated the Holy of Holies from the outer court was split open when Jesus died for our sins. The womb of this Mary has nothing to do with the Ark; the Ark and the Holy of Holies have to do with Jesus and the work He did for us.
Prayer continued;
O Mother, may your sorrowful plea stir our hardened hearts. May the tears you shed for us make this valley parched by our hatred blossom anew. Amid the thunder of weapons, may your prayer turn our thoughts to peace. May your maternal touch soothe those who suffer and flee from the rain of bombs. May your motherly embrace comfort those forced to leave their homes and their native land. May your Sorrowful Heart move us to compassion and inspire us to open our doors and to care for our brothers and sisters who are injured and cast aside.
We have already seen that this is the work of the Holy Spirit, not some other spirit the Pope cries out to in this prayer. It is the blood of Jesus that was shed for us that brings the believer to new life, not the tears of a Mary. It all may give rise to emotions and sound loving, but it is not in the Word of God and detrimental.
Queen Of Heaven
The Bible does speak of a "Queen of Heaven"; but it is not the Mary of Bible. The only Queen of Heaven spoken of is a demonic entity, a goddess, called "Ashtoreth". She is also known as the pagan goddess, Ishtar, the Babylonian "Virgin Mother" "Holy Virgin" and Isis, the Egyptian Mother goddess. Of this goddess God said,
"The children gather wood, the fathers kindle the fire, and the women knead dough, to make cakes for the queen of heaven; and they pour out drink offerings to other gods, that they may provoke Me to anger." Jeremiah 7:18 See also Jeremiah 44:17-19
Queen of the Rosary
The Rosary is also one of man's additions to worship taken from pagan religions such as Hinduism. The Rosary is not in the Word of God. In fact the very concept of the Rosary opposes the Word of God. First, when the disciples of Jesus asked him to teach them how to pray, Jesus said,
"In this manner, therefore, pray: Our Father in heaven, Hallowed be Your name". Matthew 6:9
Our prayers are to be directed to God, not anyone or anything else; including statues or images of saints. We don't make up the way we worship or pray; God does.
The Rosary is a repetitive prayer method to something God told us not to pray to, nor not to do at all. Jesus said,
"And when you pray, do not use vain repetitions as the heathen do. For they think that they will be heard for their many words." Matthew 6:7
Jesus said repetitive repetitions are vain; worthless. According to what I have read, the praying to the Rosary has been influenced by the apparitions of this spirit who says it is Mary. Again, this is not in the Word, but comes from the outside.
So, are we to follow some traditions of man, or the Word and commands of God?
Prayer continued;
Holy Mother of God, as you stood beneath the cross, Jesus, seeing the disciple at your side, said: "Behold your son" (Jn 19:26). In this way he entrusted each of us to you. To the disciple, and to each of us, he said: "Behold, your Mother" (v. 27). Mother Mary, we now desire to welcome you into our lives and our history. At this hour, a weary and distraught humanity stands with you beneath the cross, needing to entrust itself to you and, through you, to consecrate itself to Christ. The people of Ukraine and Russia, who venerate you with great love, now turn to you, even as your heart beats with compassion for them and for all those peoples decimated by war, hunger, injustice and poverty.
Therefore, Mother of God and our Mother, to your Immaculate Heart we solemnly entrust and consecrate ourselves, the Church and all humanity, especially Russia and Ukraine. Accept this act that we carry out with confidence and love. Grant that war may end and peace spread throughout the world. The "Fiat" that arose from your heart opened the doors of history to the Prince of Peace. We trust that, through your heart, peace will dawn once more. To you we consecrate the future of the whole human family, the needs and expectations of every people, the anxieties and hopes of the world.
Again, we do not entrust ourselves to anyone or anything, but God. The Pope twists the Word of God speaking something about John 19:26 that is not there. The Word says we are consecrated to God alone!
"Then Moses said, "Consecrate yourselves today to the Lord, that He may bestow on you a blessing this day, for every man has opposed his son and his brother." Exodus 32:29
"19 Therefore, brethren, having boldness to enter the Holiest by the blood of Jesus, 20 by a new and living way which He consecrated for us, through the veil, that is, His flesh, 21 and having a High Priest over the house of God, 22 let us draw near with a true heart in full assurance of faith, having our hearts sprinkled from an evil conscience and our bodies washed with pure water." Hebrews 10:19-22
Prayer continued;
Through your intercession, may God's mercy be poured out on the earth and the gentle rhythm of peace return to mark our days. Our Lady of the "Fiat", on whom the Holy Spirit descended, restore among us the harmony that comes from God. May you, our "living fountain of hope", water the dryness of our hearts. In your womb Jesus took flesh; help us to foster the growth of communion. You once trod the streets of our world; lead us now on the paths of peace. Amen.
End prayer.
First, as seen before, neither this entity nor any other intercedes for us; only Jesus. This Mary is not "our living fountain of hope". Again, the Pope took away the work and character of Jesus and gave it to the spirit of an idol. For the Word says in opposition to the Pope,
"For My people have committed two evils: They have forsaken Me, the fountain of living waters, And hewn themselves cisterns—broken cisterns that can hold no water." Jeremiah 2:13
Jesus told the Samaritan woman at the well,
"but whoever drinks of the water that I shall give him will never thirst. But the water that I shall give him will become in him a fountain of water springing up into everlasting life." John 4:14 See also Revelation 7:17, 21:6
"And again, Isaiah says: "There shall be a root of Jesse; And He who shall rise to reign over the Gentiles, In Him the Gentiles shall hope." Romans 15:12
I would ask you to prayerfully research what I have said here to see if these things are true. It is important. There is a blessing in Revelation 3 to those who do not deny the name of Jesus; escape from the soon coming Tribulation Period. Jesus said to just this one Church out of seven,
"7 "And to the angel of the church in Philadelphia write,
'These things says He who is holy, He who is true, "He who has the key of David, He who opens and no one shuts, and shuts and no one opens": 8 "I know your works. See, I have set before you an open door, and no one can shut it; for you have a little strength, have kept My word, and have not denied My name. 9 Indeed I will make those of the synagogue of Satan, who say they are Jews and are not, but lie—indeed I will make them come and worship before your feet, and to know that I have loved you. 10 Because you have kept My command to persevere, I also will keep you from the hour of trial which shall come upon the whole world, to test those who dwell on the earth. 11 Behold, I am coming quickly! Hold fast what you have, that no one may take your crown. 12 He who overcomes, I will make him a pillar in the temple of My God, and he shall go out no more. I will write on him the name of My God and the name of the city of My God, the New Jerusalem, which comes down out of heaven from My God. And I will write on him My new name.
13 "He who has an ear, let him hear what the Spirit says to the churches." ' Revelation 3:1-13
A Message To Those Who Don't Know God and His Salvation
To Eternal Life Through Jesus
If you are not a believer, but you just might think that there is something to what you have read here, you may want to learn more. God does not want anyone to perish eternally, nor to even go through the Tribulation which is seven years of Hell on Earth. Here is a place to start to learn about the salvation that God has for you.
The ABCs of Salvation
Some people think a personal relationship with God is something only theologians can comprehend. Actually, God's plan of salvation is simple enough for everyone to understand. Here are the ABCs of salvation.
Admit
Admit to God that you are a sinner. All persons need salvation. Each of us has a problem the Bible calls sin. Sin is a refusal to acknowledge God's authority over our lives. Everyone who does not live a life of perfect obedience to the Lord is guilty of sin. "For all have sinned and fall short of the glory of God" (Rom. 3:23). Since none of us is perfect, all of us are sinners (Rom. 3:10-18).The result of sin is spiritual death (Rom. 6:23). Spiritual death means eternal separation from God. By God's perfect standard we are guilty of sin and therefore subject to the punishment for sin, which is separation from God. Admitting that you are a sinner and separated from God is the first step of repentance, which is turning from sin and self and turning toward God.
Believe
Believe in Jesus Christ as God's Son and receive Jesus' gift of forgiveness from sin. God loves each of us. God offers us salvation. Although we have done nothing to deserve His love and salvation, God wants to save us. In the death of Jesus on the cross, God provided salvation for all who would repent of their sins and believe in Jesus. "For God so loved the world that he gave his one and only Son, that whoever believes in him shall not perish but have eternal life" (John 3:16).
Confess
Confess your faith in Jesus Christ as Savior and Lord to others. After you have received Jesus Christ into your life, share your decision with another person. Tell your pastor or a Christian friend about your decision. If you do not go to church or have a pastor, ask God to lead you to a church that teaches truth and the gospel. Following Christ's example, ask for baptism by immersion in your church as a public expression of your faith. "If you confess with your mouth, 'Jesus is Lord,' and believe in your heart that God raised him from the dead, you will be saved. For it is with your heart that you believe and are justified, and it is with your mouth that you confess and are saved" (Rom. 10:9-10).
Then take the time to learn from, and of God. Study the Bible. Get a New King James, New American Standard, or a King James version to begin your study. The first two are easier reading. The King James has more word study materials with it but the old language may be a little harder to read.
The time is short