Cornerstone Newsletter
Discerning False Doctrine
Chapter 1: Exposing False Teachers Is Not "Judging" And Is Commanded
By Greg DesVoignes
And they shall teach My people the difference between the holy and profane, and cause them to discern between the unclean and the clean." Ezekiel 44:23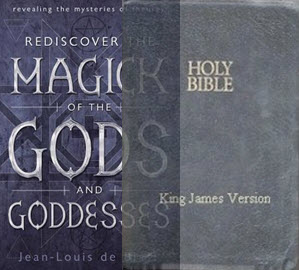 One of the least paid attention to parts of prophecy and examples of the demise of Israel and Judah are those which have to do with false teachers and doctrine. Now since this is an important part of spiritual warfare, this is disturbing. Although, as in the above verse and others, God's instructions to the priest's of His word, are to teach the people so that they can discern between the truth of God and that which is not of Him, the philosophies of non-judgmentalism, non-negativism, divisiveness, non-offensive teachings, do not touch God's anointed, political correctness, and being culturally relevant are superseding God's instructions. Israel's priests failed to teach the differences and they ended up being destroyed as a nation of God.

Is there a need to teach the difference between the holy and profane in these days? Yes. The world of Christianity has incorporated the profane with the Holy. I have yet to give classes or seminars in which I have not found Christians to be involved in following New Age/occult practices, or have wanted to know how they can reach their friends or family members who are involved with false teachers and their teachings, are in the occult or are in cults. It is also interesting that I have not taught to a group of people in which many were even surprised that there were even false teachings being taught in churches today, or shocked that an esteemed person or organization was involved in teaching doctrines not of God. The latter is the most prevalent scenario.

Having said this I want to point out that none of us are immune from being deceived. I would say that at this time all of us are not as close to God as we think we are because of being deceived in some ways we have not considered. However it is when we are confronted with a belief of ours that is in opposition to God's word and see our folly and turn from it that makes a difference. This is part of God's grace to us. It is God that opens our eyes to see the reality of these things, if we so desire that. On the other hand, the true false teachers continue in error to deceive others. But even their deception succeeds because we can fail to know God's word to be able to see it.
The thought has been that exposing the false only applied to Mormonism, the Jehovah Witnesses, and other such organizations. We don't seem to have a problem in pointing out their deception. It is when it comes to the so called Evangelical or mainstream Christianity that this then becomes a problem. Let's examine some scripture and see what else God says concerning exposing false doctrines.
We see this same problem existed long ago when we look at a conversation between apostate king Ahab and Elijah. Because Elijah was speaking out against the false doctrines and techniques that were integrated by Ahab and his myth and occult-following wife Jezebel, Ahab called Elijah a "troubler of Israel". In actuality it was the integration of the false teachings that were causing the problem [like today]. Elijah told Ahab what needs to be said today;
"I have not troubled Israel, but you and your father's house have, because you have forsaken the commandments of the Lord, and you have followed the Baals." 1 Kings 18:18
The funny thing is that there are those who get mad when people expose false teachers whom they love. They do not address the issues of the false teachings, but can only make statements that those who expose them are unloving, judgmental, negative, and divisive. They are accused of not being objective. But what does the Word tell us?
"For there are many rebellious men, empty talkers and deceivers... who must be silenced because they are upsetting whole families teaching things they should not teach for the sake of sordid gain." Titus 1:10-11
"And do not participate in the unfruitful deeds of darkness, but instead even expose them... But all things become visible when they are exposed by the light..." Ephesians 5:12,13
Now I beseech you, brethren, mark them which cause divisions and offences contrary to the doctrine which ye have learned; and avoid them. For they that are such serve not our Lord Jesus Christ, but their own belly, and by good words and fair speeches deceive the hearts of the simple Romans 16:17-18
But shun profane and vain babblings: for they will increase unto more ungodliness. And their word will eat as doth a canker: of whom is Hymenaeus and Philetus: who concerning the truth have erred, saying that the resurrection is past already; and overthrow the faith of some. 2 Timothy 2:16-18
Alexander the coppersmith did me much evil: the Lord reward him according to his works: 2 Timothy 4:14
So what then do we see here?
-They have to be silenced
-They and their false doctrine have to be exposed
-They have to be marked so they can be avoided. They really do not serve God, but their own selves
-They can be named so as to warn people about them.
And what about those who take Matthew 18:15-18 out of context and say you have to go to your brother in private if he sins against you? The context is a brother (family member or a fellow Christian) who has personally sinned against you; not a false teacher who leads many away from the faith in God. Aside from this; the true unrepentant false teachers are not a Christian's brother (or sister). In Romans 16:17-18 the writer of Romans not that they "serve not" Jesus Christ. In another book we are told:
They went out from us, but they were not of us; for if they had been of us, they would no doubt have continued with us: but they went out, that they might be made manifest that they were not all of us. 1 John 2:19
In other words, they are not our brothers or sisters and Matthew 18:15-18 still does not apply.
We need to look at Paul's warning again when he said
Preach the word; be instant in season, out of season; reprove, rebuke, exhort with all long suffering and doctrine. For the time will come when they will not endure sound doctrine; but after their own lusts shall they heap to themselves teachers, having itching ears; And they shall turn away their ears from the truth, and shall be turned unto fables. 2 Timothy 4:2-3
Lets hope and pray that we are not those who will not want to hear sound doctrine because the falsehoods and those who teach them appear more attractive than the truth. Let us also pray that those who may be involved in teaching some of these things will have their eyes opened to see through the deception. It is my desire that this website will be an aid in exposing the false things and that perhaps even those who are teaching false things will have their eyes opened by God and turn aside from them.