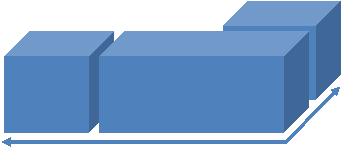 Cornerstone Research Ministry
Home
About
Articles
Contact
Recognizing False Biblical Teachings and Teachers / Signs Of The Times

Cornerstone Newsletter
Heresies Of The False Gods Of The Vaccine:

Part 2



Are Churches Becoming An Avenue Of The One World System of The Anti-Christ?
But know this, that in the last days perilous times will come: 2 For men will be lovers of themselves, lovers of money, boasters, proud, blasphemers, disobedient to parents, unthankful, unholy, 3 unloving, unforgiving, slanderers, without self-control, brutal, despisers of good, 4 traitors, headstrong, haughty, lovers of pleasure rather than lovers of God, 5 having a form of godliness but denying its power. And from such people turn away! 2 Timothy 3: 1-5
Now say to the rebellious, to the house of Israel, 'Thus says the Lord God: "O house of Israel, let Us have no more of all your abominations. 7 When you brought in foreigners, uncircumcised in heart and uncircumcised in flesh, to be in My sanctuary to defile it—My house—and when you offered My food, the fat and the blood, then they broke My covenant because of all your abominations. 8 And you have not kept charge of My holy things, but you have set others to keep charge of My sanctuary for you." 9 Thus says the Lord God: "No foreigner, uncircumcised in heart or uncircumcised in flesh, shall enter My sanctuary, including any foreigner who is among the children of Israel. Ezekiel 44:6-9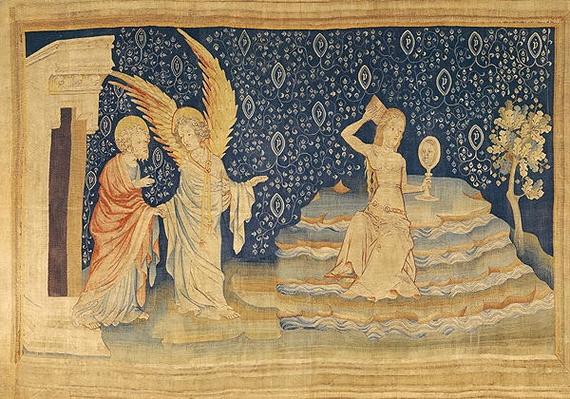 Angel showing John the Whore of Babylon (the false church): Apocalypse Tapestry on Revelation 17 - Angers, France
As we see in scripture we are told that there would be, and are now, those who would fall into apostasy. Paul described this time as those who would be blasphemers and traitors of the faith "having a form of godliness but denying its power" 2 Timothy 3:5. Revelation 17 said there would be a false ecumenical church that would assist in ushering in the anti-Christ. Today this described and includes a number of denominations and some highly followed people. Israel and Judah became like this and were destroyed. They were willingly infiltrated by those who were not of God (uncircumsized) and they ran the temple.
Many of these are like A.R. Bernard and his Christian Cultural Center with their being used by non-Christian outside sources such as the government, the religion of science and its health system to push the vaccines. But it goes beyond this one church. There is a movement among some entire churches and denominations to do this.
For instance a recent article on this said,
"Across the nation's deeply religious Bible Belt, a region beset by soaring infection rates from the fast-spreading delta variant of the virus, churches and pastors are both helping and hurting in the campaign to get people vaccinated against COVID-19.
Some are hosting vaccination clinics and praying for more inoculations, while others are issuing fiery anti-vaccine sermons from their pulpits. Most are staying mum on the issue, something experts see as a missed opportunity in a swath of the country where church is the biggest spiritual and social influence for many communities.
More than 200 pastors, priests and other church leaders from Missouri went further as cases exploded last month, signing a statement urging Christians to get vaccinated because of the biblical commandment to "love your neighbor as yourself." Springfield Mayor Ken McClure said the region saw a big jump in vaccinations after the pastor of a large church used his sermon to tell parishioners it was the right thing to do..."
So, just like what Governor Hochul told the mega church (Part 1), the same deceptive talking points are going on in other churches; Its to follow what they say is a biblical commandment to "love your neighbor as yourself". It is a guilt trip based upon a deception; a twisting of God's word to make one believe the vaccine is alright. But look at how many pastors from Missouri have been deceived by what really has infiltrated these churches.
And one must ask, who are these "experts" who say that being silent on not pushing vaccines is a "missed opportunity"? Experts on what and from where?
So on the subject of infiltration, and "experts", here is something important to remember along with this. That is; remember the comment that noted the "church is the biggest spiritual and social influence for many communities". This will come up later again.
It continued,
"...One pastor at a liberal United Methodist church in Birmingham issued a plea on social media for members to get vaccinated, while the minister at a moderate Baptist church nearby prayed during worship for divine intervention for more vaccinations..."
The pastor's prayer is below.
"...We pray, Lord, that there will be good judgment used and that people would see the need for the vaccine and that it would be available not only here in our own country but around the world and that that might stem the tide of this terrible, terrible virus," said the Rev. Timothy L. Kelley of Southside Baptist Church." Source: Many Bible Belt preachers silent on shots as COVID-19 surges , August 16, 2021 APNews.com
How is it that this pastor was not praying for divine intervention and deliverance from the virus, but instead for more available vaccinations! Instead of praying for people to perhaps repent and turn back to God, he prays for more vaccines to stop the virus; but not that God would stop the virus.
Even the well-known Franklin Graham promoted the poisonous vaccine by wrongfully saying Jesus would advocate the vaccine and take it if he was not God, and then urged Christians to take it. But he too has ties to and is involved in the health system and pharama.
The Power Behind The Vaccine Movement In Churches
So what or who is behind this move among churches to try to get their followers to take the vaccine? Are these the "experts" the prior article spoke of? Our answer can be seen in looking at the book "Covid 19 – The Great Reset". It is a book written by Klaus Schwab, the founder of the World Economic Forum (WEF) and advocate for the New World Order and The Great Reset he and other world, corporate, and "religious" leaders are setting up to make sure it happens. I spoke of this book in my last article. In addition, there are many other articles on this subject on the WEF website.
How is this group and system involved with this?
First, in a WEF article about "The Role of Faith" in a pandemic, it said,
"When an epidemic or health crisis occurs, faith leaders are generally not the first people the government consults. However, as an epidemic persists, often these are the very people that can most influence behaviour in a country.
The third was continuing educational workshops by faith leaders to assist in building trust in bio-medical treatment. Many of these were based on the divine scriptures of the Qur'an and the Bible. This gave people dignity in their faith and helped them to integrate health practices with that faith." Robin Pomeroy WEF
http://www3.weforum.org/docs/WEF_GAC16_Role_of_Faith_in_Systemic_Global_Challenges.pdf
According to the WEF, the Qur'an is "divine". But not according to God. Another telling article on the WEF's site is under the category of "Global Agenda". It is titled "The Role of Faith in Systemic Global Challenges". It says,
"The World Economic Forum recognizes that faith plays a dynamic and evolving role in society. Demographic trends suggest the number of faith adherents will increase over the next two decades, while the secular population will decrease. People of faith therefore have profound impacts on community mobilizing - for both productive and damaging purposes.
The power of faith to impact global issues and shape global perspectives is a fundamental reason why the Forum consistently engages faith leaders and perspectives in our work. As part of our efforts to incorporate an understanding of the impact of faith in our analysis of complex global trends and challenges, the Forum established the Global Agenda Council on the Role of Faith. Council Members comprise the world's foremost experts to provide thought leadership that furthers the faith agenda within Forum's activities.
"
Ah, so here is the possible source of the "experts" that say opportunities will be missed because of the silence of some pastors.
So this massive conglomeration of leaders of the big three institutions (government, business, religion) that will form their New World Order as seen in scripture, are quite aware they need the "faith" leaders (not referring to "THE" faith of true Christians) of all religions to manipulate their followers into WEF Great Reset compliance. And, they have been making a concerted effort to see that this happens. I have shown examples of this happening within the churches in Part 1
The chart below is from the WEF's "The Great Reset" web area and is titled, "The Role of Religion" (how religion plays in The Great Reset). It is an interactive chart in which you can click on the various categories and learn more how "religion" plays a role in that category. Look at some of the categories the WEF says religion has a role in. Click on the photo to go to the WEF site to see the chart. You will see categories such as, "LGBTQ Inclusion" and "Systemic Racism" which are also being pushed in some churches and denominations.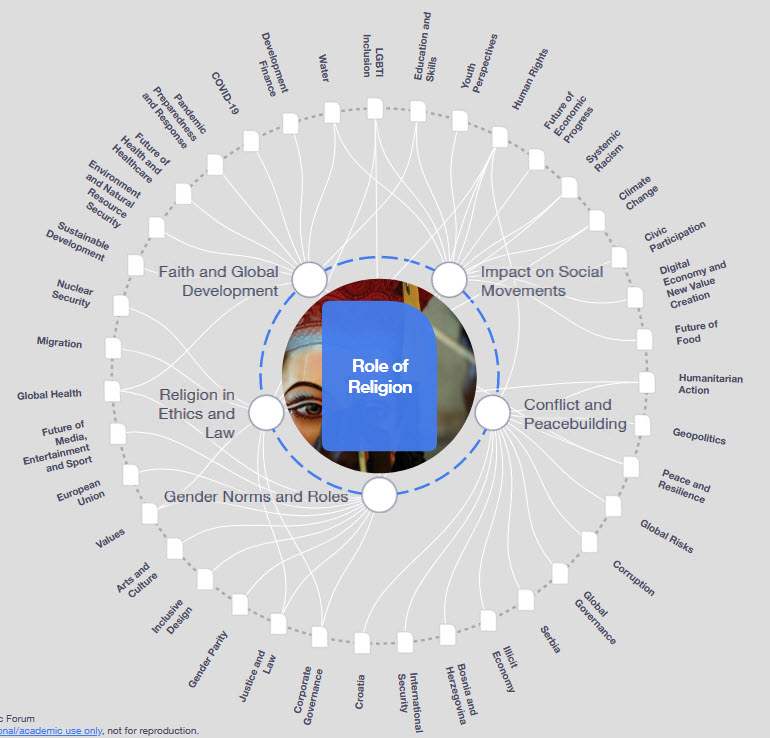 Role Of Religion in the Great Reset
And what about invoking "love" as a reason to not just get the vaccine, but also to engage in the whole "Reset" they are now trying to implement? This "love" theme is part of the WEF mantra too as seen in an excerpt from another WEF article
. "Love" is the banner for Unity in their New World Order; not Jesus.
"4. Understand civic and political life as an expression of love
One value that we believe should guide such conversations is love – a word that makes many political and business leaders strangely uncomfortable. In this context, love is much deeper and broader than a romantic sentiment. It is a courageous acknowledgment of interdependence, even obligation, to one another as fellow human beings. That's why Pope Francis has identified civic and political life as among the highest possible expressions of love.
Some 800 years ago, Saint Francis of Assisi showed the world that institutions cannot forever cater to the rich and powerful without sacrificing their moral authority, their vital connection with the natural world or their own sense of every life's intrinsic equality. In modern terms, we would consider him a social entrepreneur – a person who, through deep love and his own organizational abilities, changed the way millions perceived the poor, revitalized the purpose of institutions, restored people's relationship with nature and demonstrated the enduring power of faith to affect change.
This pandemic is not just a health crisis – it's also a crisis of faith in many of the assumptions, systems and institutions that have utterly failed us. Without hope and faith in the future, people have little to live for. With faith, however, in all its rich and varied dimensions, anything is possible."
Written by:
Fr. Augusto Zampini Davies, Adjunct Secretary, Dicastery for Promoting Integral Human Development, The Vatican City State
Amy Goldman, Chief Executive Officer and Chair, GHR Foundation
François Bonnici, Director of Schwab Foundation for Social Entrepreneurship & Head, Social Innovation; ExCom Member, World Economic Forum
The views expressed in this article are those of the author alone and not the World Economic Forum.
"
https://www.weforum.org/agenda/2020/05/covid-19-coronavirus-pandemic-faith-radical-change-social-entrepreneurs-vulnerable-populations/
So these are the WEF definitions of "love" and "faith". " Love" is the bowing down to the political endeavors of the WEF and the vaccine. "Faith" is not faith in the true and living God, but of faith in the future, a future set up by these One World government, business, and religion leaders of the WEF. They say that "faith" in the current religious institutions assumptions have failed so we must have faith in a future and return to "nature". While they say it is not the view of the WEF, they printed it.
This is what the Bible says about "faith" in these last days that I will repeat here;
Now the Spirit expressly says that in latter times some will depart from the faith, giving heed to deceiving spirits and doctrines of demons, 2 speaking lies in hypocrisy, having their own conscience seared with a hot iron, 1 Timothy 4:1
People are departing from "THE" faith: that is, faith in God and His word, in exchange to have faith in things like science, the health system, the vaccine, and even faith itself.
The Ecumenical Religious Leaders In The WEF Ecumenical Movement
There are two major ecumenical religious leaders promoting these heresies for the WEF and are instrumental in influencing churches to follow them and become part of the one world religion or "spirituality". Pope Francis is one, as is a guy called, the "Ecumenical Patriarch Bartholomew I of Constantinople".
Ecumenical Patriarch Bartholomew I of Constantinople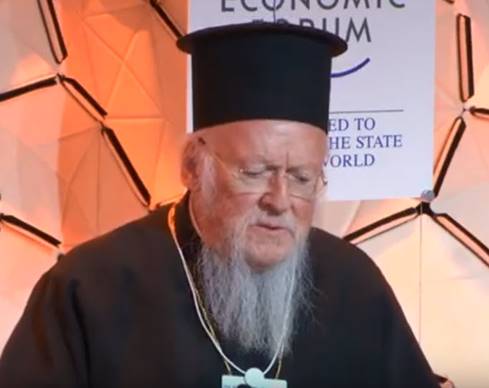 Ecumenical Patriarch Bartholomew I of Constantinople
WEF in Davos – January 2020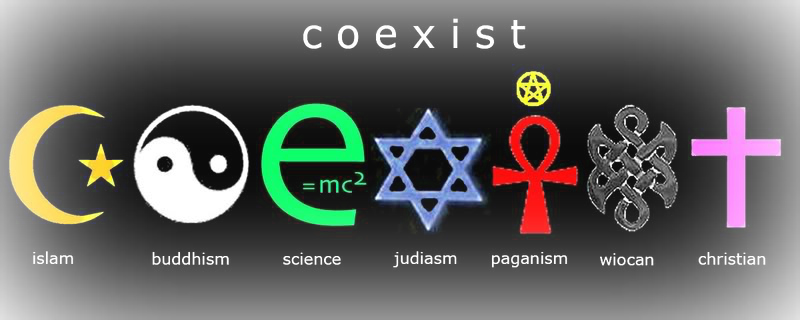 Note that "Science" is part of the line up of religions in this bumper sticker.
A January 22, 2020 WEF article quoted him as saying,
"A world of peace and justice cannot exist without the contribution of the great spiritual powers of humanity – that is, of religions and their encounter and cooperation. We have also persistently underlined that understanding other people's beliefs and values is an indispensable precondition of establishing dialogue and coexisting peacefully. Faith strengthens the commitment of human action, and it enlarges our witness for freedom and justice, even providing support to our efforts when they appear to be at an impasse."
It is not faith in God anymore, but faith in man and the ecumenical cooperation of all religions AND the religion of Science toward the end goal of the WEF. It is even seen in the "Coexist" bumper sticker. The article shows his ecumenical influence as seen below.
"His All-Holiness noted that in this context, the Ecumenical Patriarchate took the lead in ecumenical organizations, such as the World Council of Churches, and supported and promoted bilateral dialogues with non-Orthodox Christians, as well as with Muslims and Jews in the Middle East and internationally.
Bartholomew ended his talk at the WEF in Davos by saying
"We need one another; we need common goals; we need collaborative efforts. We are called to build bridges based on love and understanding, and not to construct walls of division and exclusion based on fear and ignorance. The Ecumenical Patriarchate invites all of you to join in these endeavors.
https://www.archons.org/-/world-economic-forum-davos
This brings us back to the pastor of the Christian Cultural Center, A.R. Bernard in Part 1 who hosted Kathy Hochul, Governor of NY at his church to give the vaccine mandate message. The church's website says of Bernard,
"A. R. Bernard served as President of the Council of Churches of the City of New York representing 1.5 million Protestants, Anglicans and Orthodox Christians." https://www.cccinfo.org/about-page
Now this ecumenical New York organization is also associated with the World Council of Churches of which Bartholomew was also influential with in the 1980s and 90s.
Of interest is that he is coming to America this month on October 23, 2021 and will stay until November 3rd. He has meetings with some interesting people as seen below,
"The official visit will begin in Washington, DC and is expected to include meetings, luncheons, and official dinners with the President of the United States, Joe Biden, Speaker of the House Nancy Pelosi, Secretary of State Antony Blinken, Ambassador of Greece to the United States Alexandra Papadopoulou, and Turkish Ambassador to the United States Hasan Murat Mercan. Events scheduled in Washington, DC include a Pan-Orthodox Patriarchal Chorostasia at Saint Sophia Cathedral; followed by the inaugural induction of the Senators for Orthodoxy and Hellenism; a Luncheon with the Hierarchs; a Dinner Tribute by the Order of AHEPA; the Blessing of the Permanent Exhibition of Orthodox Christian Cultural Heritage at the Museum of the Bible, and an Ecumenical Reception on Capitol Hill by the National Council of Churches.
A nice mix of apostate religious and political globalists who all have the same agenda.
Now this is interesting too.
"On Friday, October 29, the Official Delegation will travel to New York City, where Ecumenical Patriarch Bartholomew will address the Archdiocesan Council, National Philoptochos Board, and the Order of St. Andrew National Council. The Nicholas J. Bouras Award and Ecumenical Patriarch Bartholomew Foundation Dinner for Founders will be held in the evening, where an award will be presented to Former Secretary of State Mike Pompeo."
https://www.goarch.org/-/2021-ecumenical-patriarch-bartholomew-visit
As Secretary of State, Pompeo met with Bartholomew in November of 2020 as part of a religious freedom subject. Pompeo said this of meeting with Bartholomew,
"But the talks went ahead, and Pompeo on Tuesday tweeted that "as leader of the Orthodox world" Bartholomew "is a key partner as we continue to champion religious freedom around the globe."
https://www.localsyr.com/news/politics/pompeo-meets-orthodox-spiritual-leader-in-istanbul/
Pope Francis
Pope Francis has long been associated with the ecumenical movement and the WEF. Francis is a big proponent of climate change and fits in with the agenda of the WEF. I am not going to repeat a lengthy discourse on Francis as I did this in a past article titled "Birthing the False Church Through Ecumenism". I have shown some photos from that article below that show how he has been attempting to do this by bringing in New Apostolic Reformation (NAR) pastors and self-proclaimed prophets into the ecumenism of the Catholic Church and the WEF.
John & Carol Arnott (Catch The Fire - Toronto Blessing),
Brian Stiller (World Evangelical Alliance),

Kenneth Copeland, (Kenneth Copeland Ministries)
Thomas Schirrmacher (World Evangelical Alliance -Human Rights),

Geoff Tunnicliffe (World Evangelical Alliance - Sec Gen - Global Strategist), James & Betty Robison (Life Outreach International),

Tony Palmer (Communion of Evangelical Episcopal Churches - deceased)

Mike / Diane Bickle
International House of Prayer - NAR

Che-Ahn - Harvest Rock Church - NAR

Kris Vallotton - Bethel Church, NAR

Rick Warren – Saddleback Church

Stacy Campbell - NAR Prophet
In the group photo at the top there is a man by the name of Anthony (Tony Palmer). He was the ecumenical spokesman for the Pope. I In 2014 Palmer spoke at a pastor's conference put on by Kenneth Copeland. Palmer showed a video message from Pope Francis at this conference where the Pope invited all of participants to be part of the Catholic Church. Palmer told the participating pastors he had come in "the spirit of Elijah" to reconcile the Fathers, to their sons and the sons to their Fathers (ie. the Catholic Church) and said that the "Reformation is over". He said that the participants were all now Catholics. Copeland heartily agreed.
Palmer was killed in a motorcycle accident two months later. Copeland attributed that to Satan.
Conclusion
Christians nor anyone for that matter, should not be falling for the false message of the religion of the health system that "God" said to take the vaccine. It is not about health but about power in order to bring about fear and guilt to submit to the global powers of the spirit of the soon coming anti-Christ. It is actually the "god" (little "g") of this world, Satan, who is behind this move whose servants are coming across as "angels of light". Please understand that the health system cannot be of God; for God is not a God of sorrows or imperfect methods. I hope some of you will see this.
Those who promote such evil as we see has been done by those in this article have no idea what is in store for them. The least of what will happen is that they will be left to live during the Tribulation Period. And that is going to be like a nightmare you cannot wake up from for seven years. The worst is that because they have rejected the Word of God and rejected His salvation to follow a false one, they will be left eternally in a place called, "the lake of fire" with Satan and his demonic angels. God is not putting them there, they are putting themselves there, having that choice.
The bottom line is that Christians need to pray that God will stop the evil madness of the health system / governments. But perhaps this is not His plan to stop it, but to let it grow and manifest into what prophecy is showing us will be the that which triggers the Tribulation Period and the revealing of the anti-Christ. If this is the case, we need also to pray that God will protect his people from the evilness of trying to stop their being able to actually live by taking away their ability to buy or sell.
From what has been seen on one website, God is doing just this. A pastor, JD Farag, has been giving "prophecy updates" for about five years now and has been covering the Covid thing. Aware of the anti-Christ like vaccination mandates, he asked his video viewers to email him their "But God" experiences where they were threatened with job loss and other threats, "But God" intervened. He said he received 42,000 emails of which he read a number of them for two recent Sundays. They show that God does move in the favor of his children when confronted with evil, but choose not to comply to it, but follow God and not the false "science".
A Message To Those Who Don't Know God and His Salvation
If you are not a believer, but you just might think that there is something to what you have read here, you may want to learn more. God does not want anyone to perish eternally, nor to even go through the Tribulation which is seven years of Hell on Earth. Here is a place to start to learn about the salvation that God has for you.
The ABCs of Salvation
Some people think a personal relationship with God is something only theologians can comprehend. Actually, God's plan of salvation is simple enough for everyone to understand. Here are the ABCs of salvation.
Admit
Admit to God that you are a sinner. All persons need salvation. Each of us has a problem the Bible calls sin. Sin is a refusal to acknowledge God's authority over our lives. Everyone who does not live a life of perfect obedience to the Lord is guilty of sin. "For all have sinned and fall short of the glory of God" (Rom. 3:23). Since none of us is perfect, all of us are sinners (Rom. 3:10-18).The result of sin is spiritual death (Rom. 6:23). Spiritual death means eternal separation from God. By God's perfect standard we are guilty of sin and therefore subject to the punishment for sin, which is separation from God. Admitting that you are a sinner and separated from God is the first step of repentance, which is turning from sin and self and turning toward God.
Believe
Believe in Jesus Christ as God's Son and receive Jesus' gift of forgiveness from sin. God loves each of us. God offers us salvation. Although we have done nothing to deserve His love and salvation, God wants to save us. In the death of Jesus on the cross, God provided salvation for all who would repent of their sins and believe in Jesus. "For God so loved the world that he gave his one and only Son, that whoever believes in him shall not perish but have eternal life" (John 3:16).
Confess
Confess your faith in Jesus Christ as Savior and Lord to others. After you have received Jesus Christ into your life, share your decision with another person. Tell your pastor or a Christian friend about your decision. If you do not go to church or have a pastor, ask God to lead you to a church that teaches truth and the gospel. Following Christ's example, ask for baptism by immersion in your church as a public expression of your faith. "If you confess with your mouth, 'Jesus is Lord,' and believe in your heart that God raised him from the dead, you will be saved. For it is with your heart that you believe and are justified, and it is with your mouth that you confess and are saved" (Rom. 10:9-10).
Then take the time to learn from, and of God. Study the Bible. Get a New King James, New American Standard, or a King James version to begin your study. The first two are easier reading. The King James has more word study materials with it but the old language may be a little harder to read.
The time is short