Cornerstone Newsletter
The New
Normal
is
starting the New World Order
The
Disturbing Associations Of The National Institutes Of Health And The Coronavirus Doctors
21 Then a mighty angel took up a stone like a great millstone and threw it into the sea, saying, "Thus with violence the great city Babylon shall be thrown down, and shall not be found anymore. 22 The sound of harpists, musicians, flutists, and trumpeters shall not be heard in you anymore. No craftsman of any craft shall be found in you anymore, and the sound of a millstone shall not be heard in you anymore. 23 The light of a lamp shall not shine in you anymore, and the voice of bridegroom and bride shall not be heard in you anymore. For your merchants were the great men (megistan - the grandees, magnates, nobles, chief men) of the earth, for by your sorcery (pharmakeia - the use or administration of drugs, poisoning, sorcery, magical arts, often found in connection with idolatry and fostered by it, from φάρμακον phármakon (a drug, i.e. spell-giving potion); a druggist ("pharmacist") or poisoner, i.e. (by extension) a magician:—sorcerer. Strongs Concordance) all the nations were deceived. 24 And in her was found the blood of prophets and saints, and of all who were slain on the earth." Revelation 18:21-24
In the last article on the National Institutes of Health (NIH), I discussed their relationship between this agency and the Kennedy Center for the Performing Arts and their use of sorcery in the form of attempting to manipulate the brain through the use of music for the purpose of "healing". In addition there was discussed the association and guidance these government doctors and scientists within the NIH seek from the Dalai Lama, the leader of the Buddhist religion. There are dark sides in some of the associations Francis Collins and the NIH in general has with some controversial people and global organizations and with those who are saying we have to "imagine" a "New Normal", which amounts to the deceptive forming of a "New World Order" Let's look at some of these associations.
Foundation for the National Institutes of Health (FNIH)
One would think that federal agencies would be funded by taxes. This is true, but it appears that some are also funded by private donations. In the case of the NIH, it is partially funded by the Foundation for the National Institutes of Health (FNIH). Their "Donate" page says,
"Take Action to Support Life-Saving Medical Research
Every dollar counts! Your gift to the FNIH makes our efforts possible. With your help—and in partnership with NIH—the Foundation is advancing biomedical research and training in many areas. A vital asset to the NIH, the FNIH has raised more than $1 Billion in support of more than 600 programs across more than 30 countries. Also, 86 cents of every dollar spent directly supports programs." https://fnih.org/donate/general_donation
So, the money also goes to "global" programs. The problem with these private donations can also come the corruption in conflicts of interests and other areas; just like we see in the Senate and Congress with the lobbyists. In this manner we see this potential in the involvement of The Bill and Melinda Gates Foundation and the pharmaceutical company Pfizer with their donations. So, large globalist interests and government influencing businesses are involved with this "foundation". The FNIH page says,
"We are celebrating two partners that have made absolutely transformational commitments to the FNIH at a pivotal juncture in our history. Their gifts created cornerstone programs and paved the way for our partnerships with literally hundreds of other organizations dedicated to driving biomedical research worldwide," said Steven M. Paul, M.D., Chairman of the FNIH Board. "For their early transformational commitments to FNIH and their scientific leadership, we are proud to present one of the largest philanthropic foundations in the world, Bill & Melinda Gates Foundation, and one of the leading pharmaceutical companies, Pfizer, with the first Charles A. Sanders, M.D., Partnership Award."
The Gates Foundation became one of the FNIH's key partners 13 years ago, supporting 13 projects focused on the world's most pressing health challenges, such as malaria, HIV, dengue and Zika viruses, tuberculosis and child malnutrition. The Gates Foundation's initial investment in 2003 launched the FNIH's largest public-private partnership program, the Grand Challenges in Global Health Initiative, which encouraged application of the latest scientific and technological innovations to create new health tools to fight diseases that kill millions of people in developing countries. This partnership expanded the internal infrastructure of the FNIH by bringing award-winning, globally-recognized scientists to its team. It also established the FNIH's capacity for independent grant making...
The Gates Foundation's partnership continues with more than $413 million in support to date.... Pfizer's support helped build a critical pipeline of biomedical researchers and clinician-scientists. The company's scientific leadership and more than $75 million in donations to date... https://fnih.org/news/press-releases/fnih-sanders-partnership-awardv
Understand that Bill Gates, who is not a medical person, has been pushing for ALL persons in the world to be vaccinated for whatever, for a long time now. He and his wife Melinda are also involved with the globalist agenda World Economic Forum, heavily involved with the corrupt and globalist World Health Organization and donates millions to them too. Gates is also heavily invested in China, as we will see. I find it interesting that five years ago he "predicted" that there would be a pandemic if the world was not prepared for it. Also of interest is that the Gates Foundation, the World Economic Forum, Center For Health Security at John Hopkins University, NBC Universal, UPS, Johnson and Johnson were part of a pre-Corona pandemic exercise in October of 2019 in New York City called "Event201". The attendees were described as seen below.
"For those participating in New York City on Oct. 18—a heavyweight group of policymakers, business leaders, and health officials—Event 201 was a chance to see how much catch-up work is needed to bolster our disaster response systems." https://hub.jhu.edu/2019/11/06/event-201-health-security/
One of the participates was Chris Elias of the Gates Foundation. His bio on the Event201 site shows that he is, among other duties, on the "Advisory Committee to the Director, CDC" (Robert Redfield, Center for Disease Control). So Gates is basically an influence on the CDC. Redfield is a staunch supporter of the WHO as is Gates and said he would continue to support the WHO without Trump. Next is another interesting person, Chinese Professor George Fu Gao. George F. Gao is the "Director-General, Chinese Center for Disease Control and Prevention; a Professor in the Institute of Microbiology, Chinese Academy of Sciences; President of the Chinese Society of Biotechnology; and President of the Asian Federation of Biotechnology (AFOB... He is also interested in virus ecology, especially the relationship between influenza virus and migratory birds or live poultry markets and the bat derived virus ecology and molecular biology." Source: https://www.centerforhealthsecurity.org/event201/players/gao.html
This is interesting in that you have this Chinese born person, working for China, and being part of the WEF exercise which in a few months will become an actual pandemic that started with bats. Not to mention the Gates pandemic prediction, Gates as well as connections to China, the CDC, NIH and this exercise. I don't know where Gao got the name "George" from. China is also a member of the WEF.
Tom Inglesby of this Center For Health Security at John Hopkins said in the video made during, and as was part of the exercise, "We're at the start of what looks like It will be a severe pandemic. And their are problems emerging that can only be solved by global business and governments working together" (video at 1:25 in at https://hub.jhu.edu/2019/11/06/event-201-health-security/
How interesting is it that Revelation speaks of the "merchants" as the "great men of the earth" in the last days (Revelation 18:23)
What is interesting is that what was discussed in this exercise and even suggested as real life issues and "how do we handle" questions, actually played out when the Coronavirus hit a few months later. There was the stopping of global travel, the shut down of the economies, the giving out of money to companies, and people, the management of social media and other internet medium to prevent false information, etc. What is interesting in this part is that one of the participants of this exercise was Hasti Taghi. She is the Vice President & Executive Advisor at NBCUniversal Media, LLC. NBC is the company that recently urged Google to stop allowing a company called ZeroHedge and another, The Federalist, for putting out what NBC considered "racist" material on Black Lives Matter during the riots. (see https://www.foxbusiness.com/technology/google-the-federalist-zerohedge-ad-platform and https://www.nationalreview.com/the-morning-jolt/nbc-appoints-itself-internet-speech-arbiter/
What the panel said they discovered at the end of the exercise was that the world was not ready for such a pandemic. How interesting it is that shortly after this exercise, the Coronavirus was beginning to emerge in China. There are just too many questionable associations and weird circumstances with this to not be suspicious. We can see this as we take a small look at the World Economic Forum
The World Economic Forum and the "Great Reset"
The World Economic Forum (WEF) is based in Davos Switzerland and meets annually. It's website says,
"The World Economic Forum is the International Organization for Public-Private Cooperation.
The Forum engages the foremost political, business, cultural and other leaders of society to shape global, regional and industry agendas." Source: https://www.weforum.org/about/world-economic-forum.
This is a very leftist world organization that supports LGBTQ agendas, Black Lives Matter. Religious leaders also are invited to these annual meetings. One page on religions says,
This pandemic is not just a health crisis – it's also a crisis of faith in many of the assumptions, systems and institutions that have utterly failed us. Without hope and faith in the future, people have little to live for. With faith, however, in all its rich and varied dimensions, anything is possible.
So, let's get started with the hard work, and hard conversations, together. Because whether you consider yourself an idealist or a realist, the path forward will be hard and steep for years to come. Let's at least make sure we are headed in a direction that most people can believe in, and rebuild a future of hope, value and possibility for all people and the natural world we call home. Source: https://www.weforum.org/agenda/2020/05/covid-19-coronavirus-pandemic-faith-radical-change-social-entrepreneurs-vulnerable-populations/
God is not the focus of "faith" that "most people" would believe in. Christianity is in the way of this system. The WEF calls for something "most" people can believe in. This is not the God of the Bible.
In an article on the WEF site titled, "Love your neighbor: Islam, Judaism, and Christianity come together over Covid-19" it says in part,
The COVID-19 global pandemic requires an immediate, whole-of society approach to prevent the transmission of the virus. During this time of uncertainty, faith leaders such as ourselves have turned to our religious texts and theology to find comfort for the community and encourage safe practices.
We have seen fellow prominent faith leaders from Christianity, Judaism and Islam issuing opinions, guidance documents – and even fatwas – to their communities that re-analyse religious practices and provide theological opinions on how faith practices or rituals can be adapted to meet the response of COVID-19 and implement social distancing...
Although governments and health officials have issued advice to safeguard communities from COVID-19, we have seen religious leaders and actors fail to adhere to the calls and continue to engage communities in religious gatherings. To rectify these situations, religious leaders and communities from the same religious or faith tradition should directly reach out to those failing to abide by guidelines. If engaged in theological discussions about the protection of human life, we may see religious leaders halt gatherings and implement social-distancing guidelines...
Religious leaders also have a role to oppose scapegoating other religions and incitements to bigotry or violence. As we are now living in a virtual world, solidarity between religions and faith is critical....This virus does not discriminate based on religion, race or gender. The spread of the virus will only be halted when we as human beings come to practice social distancing while supporting our communities, loving our neighbours as yourself. Source: https://www.weforum.org/agenda/2020/04/religions-covid-19-coronavirus-collaboration/
There are three authors of the above page, Bob Roberts (a Globalist), pastor of Northwood Baptist Church in the Dallas / Ft Worth area; Dr. Mohamed Elsanousi (Muslim ecumenical Globalist) Executive Director of the Network for Religious and Traditional Peacemakers; and Rabbi Burton L. Visotzky, PhD (Jewish ecumenical Globalist) is Director of the Milstein Center for Interreligious Dialogue at the Jewish Theological Seminary.
Notice there is no mention of God as the solution here. It is the "scientific" community's "social distancing" and the ecumenical movement of religions coming together. (See article, Birthing of the False Church Through Ecumenism). What the WEF says about the "assumptions" of religions have failed us, sounds like what the Assyrian commander Rabshakeh told Hezekiah while they had Jerusalem under siege. To paraphrase, he said; "what god of any nation has ever stopped us. Give up to us and things will be good". God himself destroyed this army after Hezekiah prayed. See the article Battling The Alleged Incurable Diseases And Pandemics: God Is The Solution about this very thing.
The WEF "Focus" page says this of the forum's key focus;
"As assumptions about growth models are overturned, the international balance of power continues to fray, and scientific and technological breakthroughs promise to transform economies and societies, the unique platform provided by the Forum helps leaders from all walks to life to prepare for exponentially disruptive change." Source: https://www.weforum.org/about/what-are-the-forum-s-key-areas-of-focus
So the WEF is calling for and relying on "Science" and technology to transform economies and societies and then "prepare" all sorts of leaders for what the WEF s mission is, to further cause "exponentially disruptive change"; a global anti-Christ agenda. The WEF is trying to make this happen. As we will see, it is also a deceptively subversive organization when it comes to being a "sovereign nation". The WEF and it's members do not like this "sovereign nation" thinking.
Case in point would be to look at Washington's Governor Jay Inslee. Most Americans know that he is a radical proponent of "climate change" and ran as a Democratic candidate for President and didn't even make a second debate. What most do not know is that he is part of this WEF. In 2017 he attended a John Kerry sponsored forum in New York with Inslee's organization of some governors called the "U.S. Climate Change Alliance" on Climate Change. Inslee and then Governor Brown of California started this organization. An article on this meeting in New York said,
"Gov. Jay Inslee traveled to New York City and Connecticut this week to meet with international leaders for climate and economic discussions. He participated in United Nations General Assembly, World Economic Forum, and Climate Week activities.
Leaders of states and cities have an unusually prominent role in U.N. discussions this year, reflecting the important part that Inslee and other governors have in fighting climate change in the absence of U.S. national leadership."...
Inslee said,
"Carbon pollution and climate change are already impacting Washington state, from an increased severity of wildfires to ocean acidification making it more difficult for shellfish farms to raise oysters," Inslee said. "While President Donald Trump has told the world to count us out of the Paris agreement, our message is simple in New York City this week: You can count us in."
Inslee kicked off the week on Monday with remarks at the opening session of Climate Week, where he discussed efforts to fight climate change at the state level and actions taken by the U.S. Climate Alliance — a group of 14 states and Puerto Rico remaining committed to the Paris agreement. He was joined on the panel by California Gov. Jerry Brown, Hawaii Gov. Daniel Ige, Quebec Premier Philippe Couillard, Mars Board of Directors Chair Stephen Badger, and Climate Group CEO Helen Clarkson....
...Inslee then joined other governors, mayors, business leaders and foreign government leaders in a closed meeting with U.N. Secretary-General António Guterres, U.N. Special Envoy Michael Bloomberg, former Vice President Al Gore, and Patricia Espinosa, executive secretary of the U.N. Framework Convention on Climate Change. The meeting focused on collaboration with the secretary-general to build momentum for international climate action and support the implementation of the Paris agreement.
While at the summit, Inslee also met with Swedish Prime Minister Stefan Löfven. The two discussed strategies to address the climate crisis and other important topics such as clean energy, immigration and electric ferries. Inslee will remain engaged in the World Economic Forum and continue to advance our local efforts while developing new working relationships with global leaders.
Kerry asked Inslee how elected officials can lead the democratic process in a way that inspires action on climate change. Inslee made a personal appeal to the crowd to stay committed to the fight at the grassroots level.
"We need you. You're powerful," Inslee said. "Donald Trump cannot stop us. This is an effort that is alive in Seattle. It's alive in Washington. It's alive in California. It's alive in Des Moines, Iowa. We will win this battle." Source: https://medium.com/wagovernor/inslee-talks-climate-action-economy-during-visit-to-east-coast-da53125ec192
This U.S. Climate Alliance consists of 25 governors and has their "Secretariat" leadership housed at the United Nations Foundation Source: http://www.usclimatealliance.org/about-us By the way, The Bill and Melinda Gates Foundation is a "Partner" with the United Nations Foundation (started by Ted Turner) as well as are numerous U.S. businesses and people (see https://unfoundation.org/who-we-are/our-partners/ and https://unfoundation.org/who-we-are/our-partners/more-of-our-partners/
So what we have here is a subversive movement of governors and mayors in collaboration with "world leaders" and the UN to bring states and cities under the rule of those globalist business leaders, and globalist organizations like the U.N. and the WEF to subvert the United States Government and come under the direction of these globalists. Doesn't matter what the President says, Inslee says that the United States cannot stop their subversive globalist agenda.
Do you see what is going on here? Inslee and his group have their own State Department going on by meeting with foreign globalist leaders to discuss "strategies", and "collaboration" in closed meetings? Think about what the Democratic Congressional radicals have been saying about the Trump administration having foreign agents dealing with foreign leaders. I wonder if Inslee qualifies or has registered as a foreign agent that he apparently is; as well as the other governors and mayors? (see the regulations for registering at https://fara.us/?gclid=EAIaIQobChMIkd_fouya6gIVcQnnCh0eTgSxEAAYASAAEgKVGvD_BwE)
Inslee also has an association with China and appealed to the Chinese President Xi directly for sending masks to Washington State to help with the Coronaviris (see "Coronavirus: Washington Governor Jay Inslee personally appealed to Xi Jinping for PPE, on advice of Chinese-American entrepreneur" article at https://www.scmp.com/week-asia/politics/article/3086153/coronavirus-washington-governor-jay-inslee-personally-appealed
Another article on Xi visiting Washington in 2015 said,
Gov. Jay Inslee, who led a trade delegation to China in 2013, invited President Xi to Washington because of the deep economic and cultural ties Washington shares with China. China is Washington's state's top trading partner with more than $29 billion of trade in 2014. Nearly one-quarter of all Washington exports go to China. Source: https://www.governor.wa.gov/news-media/president-xi-visit-helped-showcase-washington-state-%E2%80%9Cworld-class-center-innovation%E2%80%9D
See also https://www.nwnewsnetwork.org/post/governors-brown-inslee-meet-chinese-delegation
What is interesting about Inslee is that while he has a problem following the United States Government, he has no problem of telling the residents of Washington they better follow his Coronavirus guidelines on opening, or he will close the businesses of those who fail to obey which he did with two counties who challenged him a month ago. As of June 23, 2020 Inslee has made a new law (now he is a legislator?) that it is mandatory to wear a mask in the state of Washington if indoors or in close proximity outdoors. Inslee says is a misdemeanor not to comply to his order.
He came to Spokane to specifically address the people of whom most are not a fan of his. In his news conference which consisted of medical people from Spokane, he said,
"We just have to wear a little cloth on our face until we get a vaccine. And hopefully this is not a permanent issue... If we become convinced that Spokane is heading for a disaster because it won't have hospital capacity, and if people do not abide by this order; under those conditions we could go to the next step… require businesses essentially not to do business with people who don't, who won't follow the order
" Source: video at https://www.khq.com/coronavirus/watch-live-gov-inslee-speaks-about-a-spike-of-covid-19-cases-in-spokane-county/video_730d5a2a-b72f-11ea-9769-a778f86fde3a.html
This sounds too much like what will be the issue for the world during the Tribulation times of the anti-Christ. It is almost like a preview of what is to come, what is in the prophecies. Revelation 13: 15-17 says this of the authority of the false prophet of the anti-Christ of this coming time,
And he had power to give life unto the image of the beast, that the image of the beast should both speak, and cause that as many as would not worship the image of the beast should be killed. 16 And he causeth all, both small and great, rich and poor, free and bond, to receive a mark in their right hand, or in their foreheads:
17 And that no man might buy or sell, save he that had the mark, or the name of the beast, or the number of his name.
Compliance is the issue. What is sad is that while he was telling the group in the conference that we need to think of protecting the businesses that are selling to us by wearing masks, he has allowed businesses in Seattle to be destroyed on Capitol Hill by anarchist terrorists. Masks are not even an issue there. Inslee said he didn't even know this takeover was happening. This is sad double speak.
What again was really missing from his news conference, including that of the medical speakers, was that God was not mentioned as the way to be saved from this virus; not even a thought. Will they change and see? Some eventually will, but for those of really hard hearts Revelation 9:20-21 says
20 And the rest of the men which were not killed by these plagues yet repented not of the works of their hands, that they should not worship devils, and idols of gold, and silver, and brass, and stone, and of wood: which neither can see, nor hear, nor walk: 21Neither repented they of their murders, nor of their sorceries, (pharmakeia - the use or the administering of drugs, poisoning, sorcery, magical arts, often found in connection with idolatry and fostered by it) nor of their fornication, nor of their thefts.
In 2018 Inslee was the only U.S. governor invited to the WEF to speak primarily at the Climate conference headed by Al Gore (Gore is a Trustee for the WEF). He again displayed his subversive intentions at this meeting, this time on video. You can see his input on a WEF video as seen in the link below.
Watch the first couple of minutes of the video as Gore talks a little about Inslee. Inslee starts his speech at about 37+ minutes in. Title is "Stepping Up Climate Action" at
https://www.youtube.com/watch?v=x4mMb4co36E
One thing to pay attention to are his words near the beginning of his talk when he is speaking of a young Bangladeshi who had just finished speaking. Inslee said this person had challenged a generation of baby boomers to
"get off their dime and not leave a legacy of the destruction of this planet behind t

he Age of Aquarius

" .
If you do not know what he means by "
the Age of Aquarius
", it is a belief of those involved in the occult of the anti-Christ's New Age Movement that there will be a coming New World Order utopia and it is being set up through various institutions such as government, business, education, medicine, and religion. Their agenda is outlined in a book titled, "
The Aquarian Conspiracy: Personal and Social Transformation in the 1980s"
. The writer of this book, Marilyn Ferguson, was invited to the White House by Al Gore when he was Vice President. For information on this you really need to read the article "The New Age Movement"
at
http://cornerstoneresearchministry.com/CornerstoneArticleTheNewAgeMovement.htm
So, God is giving us a preview of what this "New Normal" or really, New World Order, will be like. But again, they lose. Only those who see through this will not lose if they repent and turn to Christ as their Savior and not this system or it's methods.
World Economic Forum "Great Reset"
As noted, WEF has a global plan to "reset" the world in all its aspects. They call it the "Great Reset" and have a lot of their website dedicated to it. The Coronavirus was the catalyst for revealing their plan. They have an article on their site titled, "Now Is The Time For The 'Great Reset' ". It says in part,
We can emerge from this crisis a better world, if we act quickly and j

ointly

, writes Professor Klaus Schwab.
The changes we have already seen in response to COVID-19 prove t

hat a reset of our economic and social foundations

is possible.
This is our best chance to

instigate stakeholder capitalism

- and here's how it can be achieved.
(Note: "stakeholder capitalism" is a form of socialism)
COVID-19 lockdowns may be gradually easing, but anxiety about the world's social and economic prospects is only intensifying. There is good reason to worry: a sharp economic downturn has already begun, and we could be facing the worst depression since the 1930s. But, while this outcome is likely, it is not unavoidable.
To achieve a better outcome, the world must act jointly and swiftly to revamp all aspects of our societies and economies, from education to social contracts and working conditions. Every country, from the United States to China, must participate, and every industry, from oil and gas to tech, must be transformed. In short, we need a "Great Reset" of capitalism...Some countries have already used the COVID-19 crisis as an excuse to weaken environmental protections and enforcement. And frustrations over social ills like rising inequality – US billionaires' combined wealth has increased during the crisis – are intensifying.
Left unaddressed, these crises, together with COVID-19, will deepen and leave the world even less sustainable, less equal, and more fragile. Incremental measures and ad hoc fixes will not suffice to prevent this scenario. We must build entirely new foundations for our economic and social systems...
(Note the scare tactics above)
The level of cooperation and ambition this implies is unprecedented. But it is not some impossible dream. In fact, one silver lining of the pandemic is that it has shown how quickly we can make radical changes to our lifestyles. Almost instantly, the crisis forced businesses and individuals to abandon practices long claimed to be essential, from frequent air travel to working in an office.
(Note: Yes, one can see that in reality, churches became non-essential but drug and porn businesses became essential)
"Likewise, populations have overwhelmingly shown a willingness to make sacrifices for the sake of health-care and other essential workers and vulnerable populations, such as the elderly..."
Clearly, the will to build a better society does exist. We must use it to secure the Great Reset that we so badly need. That will require stronger and more effective governments, though this does not imply an ideological push for bigger ones. And it will demand private-sector engagement every step of the way..."
(Note: actually more controlling totalitarian and less effective government like we see happening in various states like Washington, Oregon, California and others that are allowing rioting to go on unchecked)
"The third and final priority of a Great Reset agenda is to harness the innovations of the Fourth Industrial Revolution to support the public good, especially by addressing health and social challenges. During the COVID-19 crisis, companies, universities, and others have joined forces to develop diagnostics, therapeutics, and possible vaccines; establish testing centers; create mechanisms for tracing infections; and deliver telemedicine. Imagine what could be possible if similar concerted efforts were made in every sector."
Klaus Schwab, President of the WEF said, "The pandemic is a rare but narrow window to reflect, reimagine, and reset our world". Source: https://www.weforum.org/agenda/2020/06/now-is-the-time-for-a-great-reset/
That's what they want and were just waiting for the right moment, the right crisis they could not let go to waste. They will accomplish part of this, including making life extremely hard for the believers in this period. BUT, the globalists will fail.
Revelation 17 says of this final kingdom and nations that go along with this confederation of the one world system under the anti-Christ, aided at first by the false system we see today,
13 These have one mind, and shall give their power and strength unto the beast.
14 These shall make war with the Lamb, and the Lamb shall overcome them: for he is Lord of lords, and King of kings: and they that are with him are called, and chosen, and faithful.
15 And he saith unto me, The waters which thou sawest, where the whore sitteth, are peoples, and multitudes, and nations, and tongues.
16 And the ten horns which thou sawest upon the beast, these shall hate the whore, and shall make her desolate and naked, and shall eat her flesh, and burn her with fire.
17 For God hath put in their hearts to fulfil his will, and to agree, and give their kingdom unto the beast, until the words of God shall be fulfilled.
18 And the woman which thou sawest is that great city, which reigneth over the kings of the earth.
Again, these things are happening, and will continue to increase because of the false teachers who have caused a departure from the truth of the word in exchange for the wisdom of the world, and a world who has rejected God and his salvation through the belief in his Son, Jesus.
You can tell this idea has been in the planning for a long time when you see the WEF site contains these very complicated and interactive charts on how they map this reset in all aspects of society including the health system, LGBTQ agenda, and Black Lives Matter agendas. Below are just two examples of these interactive charts. On their site you can click on the white spaces to reveal another aspect or chart. These complicated things could not have been made in a short period of time, but were set to be revealed at the "proper time" of a crisis.
But back now to the NIH.
The NIH is not the only agency involved with the FNIH and the Gates. So is the "National Institute of Allergy and Infectious Disease" (NIAID). This is the agency run by Anthony Fauci, the doctor we see calling the shots on the Coronoavirus. This is also not a good relationship. One article on the FNIH page says,
"June 15, 2017 – The Foundation for the National Institutes of Health (FNIH) has launched a new project to shorten the treatment times of tuberculosis (TB) in drug-sensitive patients through individualized therapy. The $24 million project, "Using Biomarkers to Predict TB Treatment Duration" (PredictTB), is funded in-part by the FNIH through a $13 million donation from the Bill & Melinda Gates Foundation, with management support provided by the National Institute of Allergy and Infectious Diseases (NIAID) and Catalysis Foundation for Health." https://fnih.org/news/announcements/reduce-treatment-times-drug-sensitive-tuberculosis

As noted previously, The Bill and Melinda Gates Foundation has strong ties to China, including having an office there. The page having to do with this Chinese relationship on their Foundation site says
"Our vision for China is ambitious. While we continue to support development within China in areas such as poverty reduction, HIV, tuberculosis, tobacco control, and philanthropic development, we are also committed to supporting China as a stronger development partner for the rest of the world. By tapping into Chinese resources, innovation, and expertise, we aim to replicate China's remarkable success in addressing health inequity and poverty in some of the poorest regions of the world. China's domestic reforms, increasing global engagement, and emerging capacity for innovation reinforce our faith in China's potential as a catalyst for development worldwide...
...As the director of the China office, I hope you will explore the work we do and join us in our effort to ensure that everyone in China—and the world—has the chance to live a healthy, productive life.
Yinuo Li
Director, China Office"
https://www.gatesfoundation.org/where-we-work/china-office (bold and underline emphasis is mine)
Do not the Gates see that this Communist run country suppresses their own people and puts them and those of opposing religions in prison? Don't they see that they control the every move by their citizens with technology using Fit Bits, facial recognition cameras and more "New World Order" methods? No one can deny these things are going on so the Gates also know. Yet, the Gates praise this country and want to "replicate" their "remarkable success" and "domestic reforms"? Perhaps the Gate have failed to see what China is doing in Hong Kong as well as with their own people. They know.
Of China and Yinuo Li, a 2018 blog on the International Food Policy Research Institute said,
"Emerging as a global economic powerhouse, China is expected to play a more important role in global governance. "We hope that China will become an indispensable partner for other developing countries and regions in terms of knowledge sharing, innovation, global policy and advocacy," said Yinuo Li, director of the Bill & Melinda Gates Foundation China Country Office." https://www.ifpri.org/blog/2018-gfpr-casdr-beijing-launch-china-provides-valuable-lessons-food-security-and-agricultural
The Gates are involved in operating what is called "The Global Health Drug Discovery Institute" (GHDDI) in Beijing. It was jointly founded by the Bill & Melinda Gates Foundation and Singhua University and Beijing Municipal Government in 2016 through an "innovative Public-Private Partnership (PPP)..." A web page from this Gates operated institute says,
"It is an independent and not-for-profit research organization, first-of-its-kind in China. Fully leveraging global resources and advantages in China, GHDDI is committed to improving global health through accelerated development of new drugs and innovative technologies to tackle diseases that disproportionately affect populations in the developing world."
http://ghddi.org/en/about
Another web page on February 2019 says,
"On February 22nd, Global Health Drug Discovery Institute (GHDDI) co-organized with the Bill and Melinda Gates Foundation (BMGF) the 17th Global Health and Development Media Seminar at GHDDI, themed "Frontiers of Global Health Drug R&D". During the event, the 2019 Annual Letter by Bill and Melinda Gates was also released.
Dr. Sheng Ding, Institute Director of GHDDI and Dean of the School of Pharmaceutical Sciences at Tsinghua University, Dr. Manchun Lu, Chief Operating Officer of GHDDI, Dr. Yinuo Li, Director of BMGF China Office, Alex Ng, Deputy Director of BMGF China Office and Feng Deng, Founding Managing Director of Northern Light Venture Capital attended the seminar to discuss China's overall strengths and advantages in pharmaceutical innovation, and its role and potential to tackle the world's most pressing disease challenges faced by many developing countries such as tuberculosis, malaria and diarrheal disease etc.
According to Sheng, GHDDI strives to become a new drug engine, an innovation disseminator and a beacon in China to serve and benefit the world. "We will fully leverage China's R&D capacity and innovation environment to create a diversified pipeline that delivers effective and affordable drugs to address major global health concerns," Sheng said.
"We will also advance in key frontiers of pharmaceutical sciences, expedite technological breakthroughs and cultivate top talents to scale up GHDDI's successful model and to become a transformative drug discovery and translational platform in China and for the world," Sheng added.
In the seminar, Yinuo released the Bill and Melinda Gates 2019 Annual Letter "We didn't see this coming", in which Bill and Melinda shared their nine surprises during their 20-year committed journey to global health and development, including "Africa is the youngest continent", "Data can be sexist" and "There's a nationalist case for globalism" etc. http://ghddi.org/en/node/210
So Gates is in with China, not the United States, in developing drugs to "benefit the world". Note Gates also is in favor of a Globalist governance. In view of recent revealed things about China, their oppression and being the source of the Coroniavirus (which they hid), this relationship with China by Gates is not a good thing. For while Gates is involved with China in being the world's major developer of drugs, President Trump is calling for not getting drugs from China, but having them made in the United States. This presents a problem for Francis Collins of the NIH, Anthony Fauci of the NIAID and even Robert Redfield of the Center for Disease Control (CDC) which Gates also is involved with as a "Global Partner" (https://www.cdc.gov/globalhealth/immunization/who/default.htm). Deborah Birx also has an association with Gates which presents a problem with the State Department too.
The Gates have also donated money to the CDC. One CDC website page says,
CDC manages approximately $2.1 billion in financial and resource investments for global health. In addition to Congressional Appropriations, CDC receives approximately $12 million in global funding through foundations and other donors including the Bloomberg Family Foundation, the Bill and Melinda Gates Foundation, and the CDC Foundation." https://www.cdc.gov/globalhealth/pdf/global-Health-Funding.pdf
CDC Director Robert Redfield said on a Twitter post in 2017
I am happy to join the Bill and Melinda Gates Foundation today for a discussion on the importance of
#globalhealthsecurity
. Thank you @gatesfoundation for your vision, support, and interest in keeping the world safe.
See relationship photos below
| | | |
| --- | --- | --- |
| | | |
| Gates, Collins, Fauci 2017 | Fauci, Gates, Collins 2018 | Gates, Deborah Birx - Dept of State |
When there is big money involved in government entities, both in the U.S. and the world, there is at the very least, a conflict of interest that violates the trust of those government officials. This is true especially when Gates is giving money to these entities, pushes vaccines, and has a strong relationship with China, the World Economic Forum and the World Health Organization. But there is a little more with the NIH and the FNIH.
Part of those who are on the board of directors of the FNIH are employed by some companies that would seem they should not be part of an organization that provides money to the NIH. Here are a few
Buffy Cafritz (Elected Director)
Honorary Trustee, The John F. Kennedy Center for the Performing Arts
(Joined with NIH on using music to manipulate the brain)
Freda C. Lewis-Hall, M.D., DFAPA (Elected Director)
Executive Vice President and Chief Medical Officer, Pfizer Inc
(Pharmaceutical company)
Jillian Sackler, D.B.E. (Elected Director)
President and Chief Executive Officer, Dame Jillian & Dr. Arthur M. Sackler Foundation for the Arts, Sciences & Humanities
(Sackler brothers own Purdu Pharma that started the Opiod crisis)
Source: https://fnih.org/about/directors
Jillian was married to the late Arthur Sackler of the infamous Sackler brothers who own Purdue Pharma, the company that poisoned and killed many with the Opiates they sold. This company and family has been under investigation by both federal and state governments.
In a 2017 article in Politico titled "Meet the World's Most Powerful Doctor: Bill Gates" said in part,
"Some billionaires are satisfied with buying themselves an island. Bill Gates got a United Nations health agency in Geneva.
Over the past decade, the world's richest man has become the World Health Organization's second biggest donor, second only to the United States and just above the United Kingdom. This largesse gives him outsized influence over its agenda, one that could grow as the U.S. and the U.K. threaten to cut funding if the agency doesn't make a better investment case.
The result, say his critics, is that Gates' priorities have become the WHO's....

...Evidence of Gates' unprecedented influence abounds in ways subtle and showy.
"He is treated liked a head of state, not only at the WHO, but also at the G20" — Geneva-based NGO representative
"
Source:
https://www.politico.eu/article/bill-gates-who-most-powerful-doctor/
Below is a chart of the associates and confederates of The Bill and Melinda Gates Foundation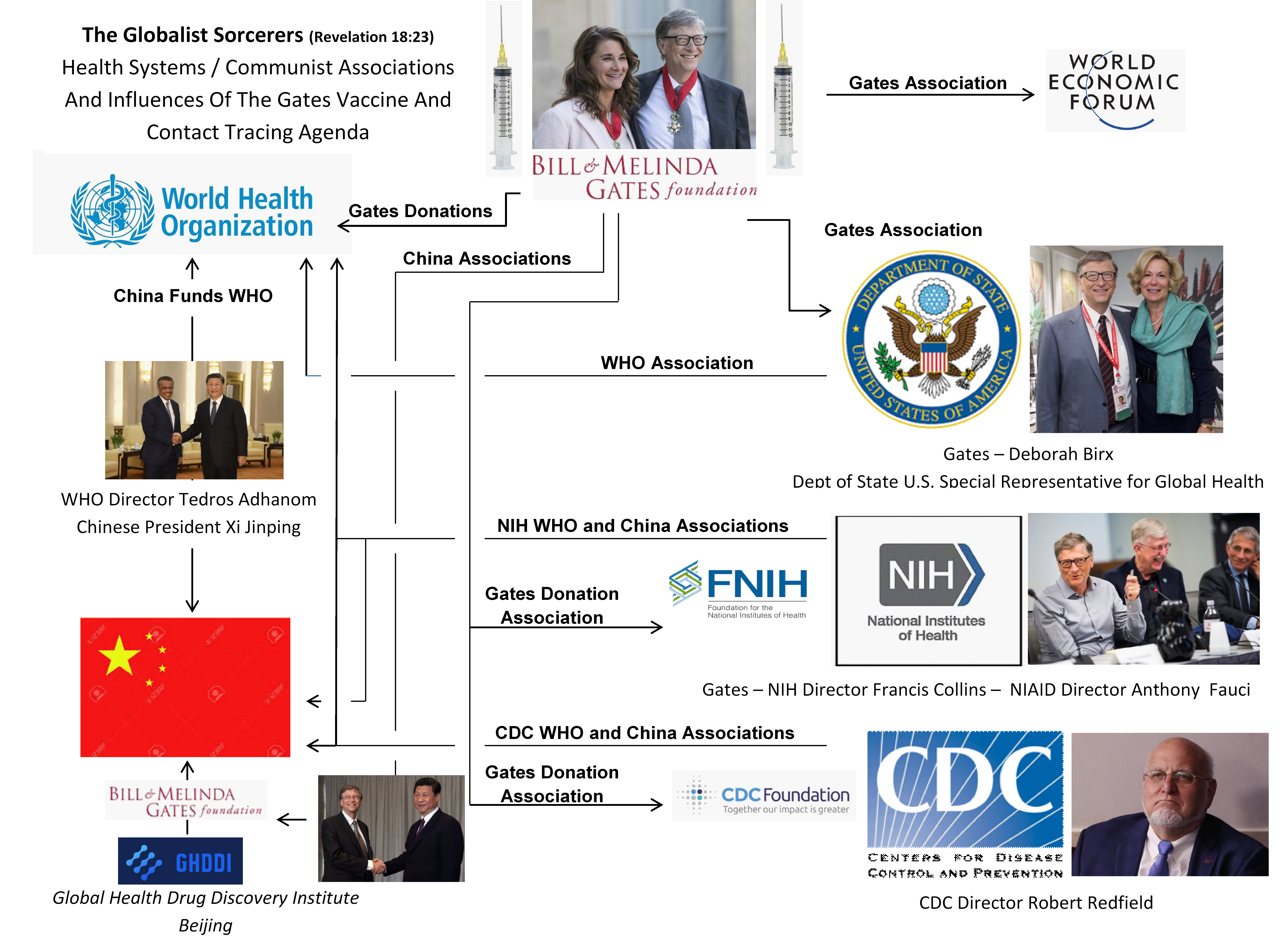 Fauci Warns Against Anti-Science In U.S. And Declares "Science" As "Truth"
In a June 18, 2020 CNN article / interview, Anthony Fauci said,
" "anti-science bias" in the country can be problematic.
"One of the problems we face in the United States is that unfortunately, there is a combination of an anti-science bias that people are -- for reasons that sometimes are, you know, inconceivable and not understandable -- they just don't believe science and they don't believe authority," Fauci said.
"So when they see someone up in the White House, which has an air of authority to it, who's talking about science, that there are some people who just don't believe that -- and that's unfortunate because, you know, science is truth," Fauci said.
"It's amazing sometimes the denial there is. It's the same thing that gets people who are anti-vaxxers, who don't want people to get vaccinated, even though the data clearly indicate the safety of vaccines," Fauci added. "That's really a problem."
Source: https://www.cnn.com/2020/06/18/politics/anthony-fauci-coronavirus-anti-science-bias/index.html
Fauci is upset that there are people who do not believe him, nor view him or others in the Health / Scientific or even business arena (Gates) as authorities to be in charge of the government and the lives of people in the United States and beyond. While he declares, "science is truth", God said that it is not, but that God's Word is truth. Unlike Science, God does not change. If Science were truth, it would not be changing all the time. For what was "scientific truth" last year, is not truth this year, or maybe even this week. How many times has he, Birx, Redfield and others in the Health Industry changed their "truth" each week based upon their "models", their sciences, on the Coronavirus? The World Heath Organization has done the same. How many times has "Science" come up with a medication or procedure that actually harmed or killed people? Look at the number of lawsuits against pharmaceuticals just as one example. What the FDA said was safe today, was found deadly a few years later. Science also kills.
For the Christian, these things should be a no brainer; but it isn't for many. Man and his sciences are still looked to for answers, not God. Pastors quote scientists and even recommend their books. What I find interesting is that you do not find any of the early church disciples, or apostles quoting the scientists, or philosophers of their time. No, they quoted scripture and the prophets and God's chosen leaders of the Scriptures. Paul warned Timothy to "Preach the Word", not something else, like science. The Word was to them the "pure word" not a polluted mixed one of today. Underneath this hope and following "science" are many globalists and globalist organizations and their One World globalist agenda.
If things continue with this pandemic, civil unrest, and perhaps other pandemics as well as other prophesied calamities, perhaps things could change if people in the Church would even realize that God said in Jeremiah 17:5-8
5 Thus says the Lord:
"Cursed is the man who trusts in man
And makes flesh his strength,
Whose heart departs from the Lord.
6 For he shall be like a shrub in the desert,
And shall not see when good comes,
But shall inhabit the parched places in the wilderness,
In a salt land which is not inhabited.
7 "Blessed is the man who trusts in the Lord,
And whose hope is the Lord.
8 For he shall be like a tree planted by the waters,
Which spreads out its roots by the river,
And will not fear when heat comes;
But its leaf will be green,
And will not be anxious in the year of drought,
Nor will cease from yielding fruit.
If God is the one who allowed this virus to come about (and He did), then Science, the Health Industry, Business, Government and Media and global efforts will not stop it. When you read the word of God, especially the words of Jesus in Matthew 24, and in the book of Revelation, this becomes apparent. If you do not know the Word of God, then as opposed to the WEF chairman's statement on taking advantage of this crisis, now is the true "window of opportunity" to learn of God and Jesus and his Salvation of eternal life which these whom have been discussed do not have at this time. They have no idea what they have involved themselves with and should be prayed for.
It was God who won all the battles for Israel in the Scriptures, by his power of the Spirit and his Hand; not man's. Our battle is with the powers of Satan behind these men and women and it is by God we beat Satan down; IF, we change and put our hope and trust in him and not play down the fence line and try both God and man. That is failure.
Related Articles
National Institutes Of Health Partners With Kennedy Center For The Arts: Incorporates "The Arts" For Researching Using Music To Manipulate Brain
The Danger of the World Health Organization And Health System Power
Battling The Alleged Incurable Diseases And Pandemics: God Is The Solution